Omnia Gourmet – Silvena Rowe's first café in Dubai
Silvena Rowe seems almost custom-designed for Dubai, and also seems to have a plan to exploit her built-in local market advantages. Those advantages start with a convincingly cross-cultural background combining Ottoman and Balkan heritage, move on to a strong London media profile, then on to a style of modern Middle Eastern cuisine with good potential appeal to both expats and Emirati nationals, and end with the sort of boundless self-confidence and energy that seems to be a prerequisite for a powerful presence here in Dubai. For better or for worse, this isn't a city where laidback beta personalities typically thrive.
Over the last year, the plan – whether real or apparent – has included growing a local media profile, a chef consultant partnership with The H Hotel, building awareness of her food via a pop-up restaurant at Dubai Food Carnival, love-bombing and assiduously cultivating the local food blogger community (which is why, to ensure neutrality, I'm writing this review rather than FooDiva herself), and now opening her new informal Omnia Gourmet café over Ramadan. The next (and possibly not final) step will be to open her more formal Omnia by Silvena restaurant in Downtown Dubai ('omnia' is Arabic for 'wish'). At times over the last year, Chef Silvena has appeared to be a one-woman hallouminati seeking total dominance of Dubai's modern Middle Eastern-cum-Arabic food scene.
With Omnia Gourmet now open in 'Al Souq', the Gourmet Souk next to the Jumeirah Fishing Harbour in Jumeirah 2, we have our first chance to decide whether or not, media blitz aside, the food is any good. Reviews of Silvena's Quince restaurant in London's Mayfair were decidedly mixed, so a fair amount is potentially riding on initial reaction here. The good news is that early signs are promising if occasionally uneven (fully conceding that a casual café shouldn't necessarily be taken as any automatic indication of the quality of a still-to-open higher-end restaurant).
Omnia Gourmet heavily emphasises fresh and organic ingredients, sourcing these locally where possible. Primary ingredients are often supplemented by 'superfoods' such as chia seeds, goji berries, etc. Silvena herself told me (more of that in a minute) that about 75% of the ingredients are local, which impressively includes both the burrata and ricotta cheese.  The high quality of the ingredients really comes through in the salads. The sugar snaps in the signature avocado, sugar snaps and organic chick pea salad in za'atar pesto dressing were brilliantly crispy, perfectly offsetting the texture of the avocado. Mrs White Hat indulged her inner Slav, and ordered the beetroot and ricotta salad. Beetroot is quite possibly my least favourite vegetable (which is why we almost never have it at home – and why Mrs White Hat jumped at the opportunity), but even I had to concede that these were perfectly prepared, retaining a good, firm, earthy texture that – continuing a theme from the avocado salad – nicely balanced the underlying ricotta. As good as the ingredients were, though, both salads seemed just slightly underseasoned; a minor shame given the obvious quality of the ingredients.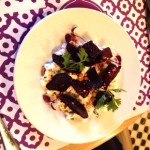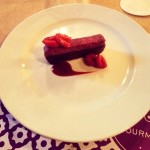 Of the mains, the highlight of the lunch was the orange blossom and honey-glazed chicken with potatoes and harissa. This was an excellent dish with moist, well-seasoned chicken beautifully complemented by a nicely warming harissa. Silvena is rightly quite proud of the quality of the local chicken; I would have happily eaten this AED69 dish in a far more expensive and formal setting. The spanokopita, however, was a disappointment. The filo at the top was properly crispy, but the centre and base felt more like coagulated glue than spinach and pastry; Greeks will likely choose to go elsewhere for their filo and spinach fix.
Desserts divided opinion. The emphasis is on raw, gluten-free, sugar-free, 'guilt-free' desserts; many are also dairy-free. Alas, the famous raspberry cheesecake was so popular that they'd run out at lunch, and while a new one was in the fridge, it hadn't set yet.  I ordered two raw, dairy-free desserts, a raspberry and chocolate brownie and a creamed pistachio cup. I really liked the latter, possibly because the pistachio and coconut oil centre reminded me of evaporated milk, one of my great "I should never admit to that in public" secret guilty pleasure food shames. I also enjoyed the raspberry component of the brownie, but the chocolate base – while fine in flavour – was so dense it was difficult to cut through with a fork. Mrs White Hat was less convinced by either dessert, but conceded that, as a keen baker, she's naturally biased against what she calls "gluten-free, dairy-free, sugar-free, fun-free" desserts. But the helpful and friendly waitress happily accepted Mrs White Hat's constructive feedback here, and recommended that she try the chocolate mousse the next time we visit. On the other hand, Mrs White Hat really enjoyed her Emirati Gold smoothie of mango, orange, banana, and bee pollen; the rich, creamy texture justifying the slightly hefty AED26 price tag. My wild rose tea was perfectly acceptable, but serving it already steeped in a glass teapot, and then pouring it at the table, only emphasised that the teapot was less than half full even before pouring.
There's a minor irony that ever since FooDiva rightly highlighted the problems with Dubai restaurant service, every restaurant or café I've reviewed for this site has had impeccable service. The Omnia staff could have been forgiven if they'd struggled slightly on the day we visited since the café was in the middle of changing its menu, and no printed version was available. Instead the staff had to explain every dish from memory either at the table or at the counter. This was done flawlessly; friendly staff were always ready with helpful recommendations, and food was served promptly and efficiently. Silvena appeared in person about halfway through our lunch, taking time to talk to each table in turn (no, my cover wasn't blown), though she was dressed in a manner that suggested she either doesn't give a flying monkey about the whims of fashion or had come straight from the gym (I'd guess the latter given her Instagram profile).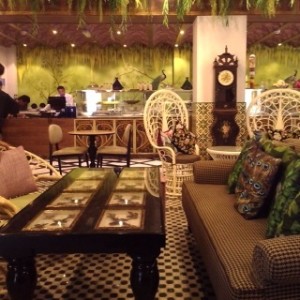 Décor is bright and airy with gentle Middle Eastern touches, though I had mixed feelings about the butterfly holocaust adorning several walls (and some of the tables). Silvena may perhaps be aiming to fill the previously unsuspected niche market in lepidopterist-oriented cafes serving healthy food, but I found it slightly disconcerting to be eating so many locally sourced organic ingredients while surrounded by dead insects. The waterfront location will likely become more appealing once the weather cools down and customers can actually enjoy walking around the harbour, where there are a few more restaurant options.
Omnia Gourmet is neither cheap nor outrageously expensive; our lunch was AED 202 for two. The café does a lot right, and is a strong option for anyone looking for an informal café serving what's for the most part good-quality, healthy food. Vegetarians will be particularly happy to have another veggie-friendly dining option. That the café was busy and buzzing at a weekend lunchtime, drawing equal numbers of expats and Emiratis, isn't just down to having a celebrity chef in charge. And as long as I avoid the spanokopita when I go back, I'll likely consider Omnia Gourmet if I need lunch the next time I'm driving down Jumeirah Beach Road.
Does Omnia Gourmet's locally sourced, organic ethos appeal?  What do you think about raw, sugar-free desserts?
The Man in the White Hat.
So who's FooDiva's anon guest reviewer, The Man in the White Hat? He has an abiding interest in both history and food; his holidays tend to combine an intriguing local cuisine with a UNESCO World Heritage site, and he's eaten his way across some 50 countries in Europe, Asia, Africa, North and South America, and Australasia.  He currently lives in Dubai, where he edits a couple of academic publications.