A taste of Tashas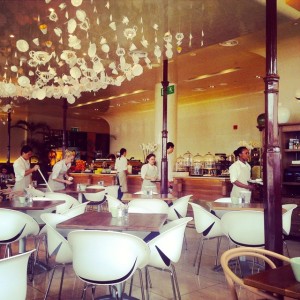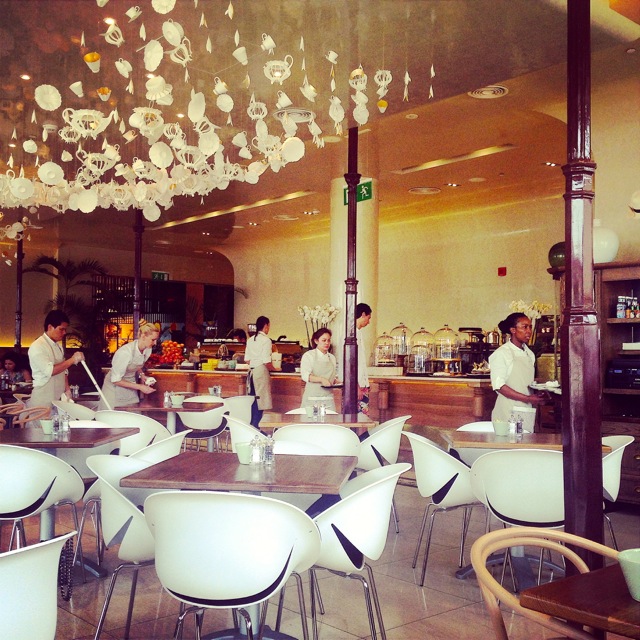 With lunch back on the agenda given our Ramadan lull, it's time for some café culture, and I have a few Dubai newbies to share with you. First up, is South-African import Tashas (the nickname of Greek-South African founder Natasha Sideris), just open in the new Galleria mall on Al Wasl Road in Jumeirah.
With a fresh and slightly retro, deli feel, the pretty all-white origami decorations dangling from the ceiling leave me mesmerised. There's an outdoor terrace, admittedly facing the road, for al fresco munchies when the weather cools down.
I count 87 dishes on what has to be the largest all-day menu I have ever seen here in Dubai – and that's without desserts and drinks. Anyone else got a bigger menu? There's plenty of egg, pastry and healthy fruit-based breakfast dishes; all things bready with sandwiches, toasties, flatbreads and quesadillas; right through to salads, pastas and a protein fix with main courses.
I struggle to choose from such a mammoth menu, but with a pending detox on my mind, I settle on a healthy choice with a salad of roasted butternut squash and goat's cheese – served on a bed of greens with oven-baked cherry tomatoes, pine nuts and avocado – and a teeny pot of honey mustard vinaigrette for drizzling. The slender squash 'chips' are crisp on the outside, yet soft and velvety on the inside. The salad leaves are fresh and crunchy, whilst the goat's cheese is dense and creamy. An excellent dish oozing texture – but leaves me craving more. Next time, forget the health drive, am having the larger portion designed for table sharing – but all to myself. My friend's 'Brazilian' quesadilla arrives as folded triangles – filled with strips of grilled chicken marinated in lemon, chilli and coriander with melted cheddar – and dollops of yoghurt on the side. Looks a little uninspiring and would benefit from better presentation, but it certainly packs flavour and punch.
There's a good selection of freshly squeezed fruit and veggie juices, but sadly no local water here. Be warned Tashas doesn't come cheap, with my single portion salad AED78 and the quesadilla AED58. Juices are AED28. Main courses range from AED58 – 135. If am gonna pay upwards of AED100 for a main, I'd like to down it with a glass of vino please.
Service is a little obtuse, with our waitress not quite comprehending our order so we have to continuously repeat ourselves. But aside from that, in a half-packed, buzzy restaurant over a weekend lunch, the food arrives pretty pronto. It may not be cheap, but it's certainly cheerful. If you happen to be in Jumeirah 1, then Tashas makes a reasonably good, all-day dining pitstop, but given the steeper prices, there are plenty of more affordable, decent cafés scattered across town.
In the same mall sits the Emirati-owned, Home Bakery which makes for a delightful cuppa and cake – mind you, both our lemon and orange cakes are a tad on the dry side. Brekkie is also served here.
With detox over, I've just tried and tasted Avec in Dubai Media City so stay tuned for the review. Any more new café haunts worth checking out? Where's your go-to café hangout?
A bientôt.
FooDiva. x