Is Lao at Waldorf Astoria Dubai a safe South-East Asian bet?
Most five-star hotels in Dubai boast some kind of Asian or Far-Eastern restaurant – whether that's Indian, Thai, Chinese, Japanese, or to play it safe, the more all-encompassing South-East Asian. And that's the route Waldorf Astoria Dubai on Palm Jumeirah has taken with Lao – named after a tribe that populated South-East Asia in the first millennium.
You would expect the menu to be divided by country, yet dishes are grouped into dim sum, appetisers, soups and so on, marrying traditional with fusion fare. But you will find a medley of dishes from Vietnam where the female chef hails from; as well as Thailand, Cambodia, Malaysia and Indonesia, even stretching to Singapore and China.
Fans of pho, the fragrant meaty rice noodle broth that the Vietnamese named after French pot-au-feu will find their fix here. But it's too steamy these days for what is essentially a soup, so my dining companion and moi opt for a couple of dim sum appetisers. I am always drawn to anything foie gras for its decadence and naughtiness – and this menu has a couple of options. The foie gras dumplings on a bed of sour apple that we order are sadly under-steamed, bordering on crispy – and the diced foie gras filling a little on the mean side. When I spot onion pancake on the menu, I have in mind those moreishly fluffy Chinese-style scallion pancakes that make for pure comfort fodder – but no what we are served here at Lao is an oversized blini topped with deep-fried onions and slivers of fried chicken skin (pictured above). I don't mind having my perceptions blown out of the steamy window, in fact I welcome surprises, but this concoction is purposely and rather oddly served cold – it may look pretty but it's disappointingly bland. We taste and leave it.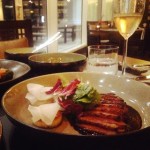 Moving onto mains, the duck (Muscovy) breast braised in honey and ginger arrives carved thinly, all nice and rosy, but its skin is far from the caramelised crispiness which we expect given our waiter's earlier rendition of the dish. The feather-thin slivers of radish on a bed of Japanese yam served with the dish are deliciously good though. Our star dish of the night by far is the braised short ribs with fried garlic root and a pak choy delicately spiced with wasabi. The beef is velvety and super succulent; so tender it falls off the fork…and chop sticks. The classic Malaysian-cum-Indonesian dish of lamb rendang is underwhelming with the slow-cooked cuts not particularly tender and juicy. Oddly there are no steamed veggies on the menu given there are so many other traditional dishes, but our waiter kindly obliges with a generous portion of pak choy, carrots and broccoli lightly doused in oyster sauce – cooked perfectly al dente.
The waiter notices our disappointment with some of the dishes when clearing our plates, and brings us a couple of desserts on the house. The chocolate molten cake is exceptional – moist, oozing with hot dark chocolate and a good match to a wonderfully smooth green tea ice cream – whilst pocket-folded crêpes served cold (again) are rather nondescript. All portions from starters to mains and desserts are generous, and the traditional fare like the rendang is offered as a small or large serving. Lao has a limited cocktail menu, but an ample and well-priced wine list – including my current favourite non-champagne fizz – the South African Simonsig Brut for AED400 a bottle.
Clearly it's hit and miss with our choice of dishes; perhaps Lao should condense the mammoth menu and focus on fewer, well-executed dishes. What Lao loses out on food, it makes up for with intuitive service and a waiter who proactively and expertly explains the cooking style of each dish – under the helm of restaurant manager, Lily, who some of you may recall from her Hukama days. On a Wednesday evening, only a handful of tables are occupied and perhaps due to Ramadan lacks much-needed atmosphere. The restaurant is an intimate space with a small bar and private dining alcoves, but the all-chocolate decor is a little sparse and lacklustre, with for want of a much-overused phrase, no sense of place…or South-East Asia.
Expect to pay between AED200-250 per head without booze, and if you have the Entertainer book or app, you can get yourself two main courses for the price of one. Discount aside, it's a reasonably priced restaurant for a top-end licensed hotel location and the service impresses, but with only three out of eight dishes wowing us, the chef really needs to fine tune the menu for Lao to compete in Dubai's prolific and well…safe South-East Asian restaurant space. For now, it's a two and a half FooDiva knife rating. If you're choosing to dine at Waldorf Astoria, Social by Heinz Beck is a much safer bet.
If you've tried and tasted Lao what are your thoughts? Where's your go-to restaurant for South-East Asian fare?
A bientôt.
FooDiva. x