Hello Jambo's Grill
A new restaurant in Dubai is serving up not just East African cuisine which can be found across town with Kenyan and Ugandan fare, but specifically a wide selection of Tanzanian dishes. Admittedly from feedback on my Instagram account, there's not a huge difference between these countries' cuisines given they all embrace Swahili culture – perhaps a slightly varied cooking style or just a tweak in the name. But this newbie goes by the name of Jambo's Grill in Karama – on the same strip as the main post office so pretty easy to find. It's the brainchild of two Zanzibari brothers, one of whom is noticeably present when I dine there, clearly working the small, cosy and bright restaurant stopping by each and every table. Well the word jambo is the Swahili greeting for hello after all.
The appetiser platter we share is all deep fried munchies so beware you will overdose. The bhajia in the fore of this snap are mini chickpea fritters, sadly luke-warm though and a little bland. The sambusa are identical to the prolific samosas – filo pastry triangles stuffed with minced lamb and veggies – piping hot and packed with plenty of punch. The kachori are fabulously fluffy pastry balls filled with finely ground lentils, whilst the fiery kick comes from the so-called kebabs – basically crisp meatballs made with super fine ground beef and a touch of ginger, garlic and coriander. A mild mint yoghurt dip balances the spice. The Indian influence from the spice route is clearly evident in this menu – more here from my holiday in Zanzibar a couple of years ago. It's a good choice of starter if you want a taster of different bites, but I would have preferred some grilled (and warmer) concoctions thrown into the mix.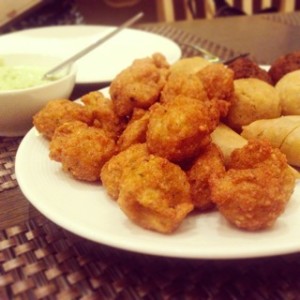 For my main course, I am torn between the delightfully named Kuku Paka, a Swahili roast chicken curry and a Jambo signature dish by the (more romantic) name of Sekela. Settling for the latter, also a chicken dish, but marinated overnight in African scotch bonnet peppers, a chilli variety, and charcoal grilled – basically a slightly spicy tandoori. Succulent and juicy with not a hint of a dryness. You can choose from a quarter, half and whole chicken or a butterflied breast. A side order salad of finely chopped cabbage, carrot and cucumber would benefit from a more fragrant and richer dressing.
My friend opts for one of the classic Indian dishes on the menu – a lamb korma – generous chunks of tender meat cooked in a light and delicious, albeit slightly oily gravy of almonds, cashew nuts, garlic and ginger. So good, I pour dollop after dollop on my steamed basmati rice. The ugali, a maize meal polenta is her side dish order, but all I can say is it tastes of well…nothing – snow-white and overtly bland.
The dessert menu is hardly African inspired, with the likes of cheesecake and brownies bought in from a cake supplier, so with stomachs full we skip them.
Sadly yet again we have some service issues. Our waiters are a little nervous and so softly spoken, I strain to hear them, or perhaps am just going deaf. My chicken main course arrives before the appetiser platter so we send it back, and then have to wait a wee while for the starters to rock up. Our dirty starter plates are not cleared before our mains are served, so we push them aside and pinch cutlery from the neighbouring empty table. I am not going to dwell further on the service given the cheap and cheerful AED60 per head price point at Jambo's doesn't command perfection. It's anyhow clear from our conversation with the owner that he is very much aware of his work cut out on that front.
On the plus side, it's good to see a new concept offering a different take on under-represented East African cuisine in Dubai, so do pop Jambo's Grill on your dining out list for a casual, booze-free night especially if you're in the Karama vicinity – or hop along now over traffic-free Ramadan.
So pray tell, what East or West African restaurants in Dubai have you ventured to?
A bientôt.
FooDiva. x