Fümé – it's not what you think
Fümé translates to 'smoked' in French, so when I first hear mention of this new restaurant in Dubai Marina's Pier 7, I assume the majority of dishes are smoked. Wouldn't you? But far from it, only the odd seafood and meat dish is smoked on-site in a Balinese barbeque using coconut husks as charcoal (on display at the entrance).
The kitchen also boasts a Mibrasa charcoal oven where whisky barrel chips char the meat at ridiculously high temperatures. Otherwise, the playful menu with its clipped clothes hanger, reads like mama's home cooking – pure comfort food drawn from countries East to West. No surprise like most new restaurant concepts these days, it's all designed for sharing. My theory – this style of service eases pressure on the kitchen so dishes are rolled out whenever ready – irrelevant of starter, main or side. Yes a cop out really, but on the flip side, sharing is caring :).
So how do our dishes fare? I don't normally divulge who I am dining with, but on this occasion it's two very serious foodies who live in Brussels and spend their weekends and holidays trawling Michelin and World's 50 Best restaurants – my sister and brother-in-law. So I've made an executive decision to include their musings.
The beef in my steak tartare is hand chopped so finely, lightly seasoned with the robust flavour of capers and fried onions seeping through. An incredibly slow-cooked egg is perched so precariously it wobbles, and just begs for my fork to smash it up, as I do, piling exquisite dollops onto slivers of toasted baguette.
The veal chips with a harissa dip do not look anywhere near what you would expect. In fact, they are veal croquettes. A tasty surprise though. "The menu does not reveal this goody, but instead keeps us wondering – meaty, crunchy, delicious."
A French onion soup which when we question the waiter interestingly is made with veal not beef stock. "A reasonable imitation of the humble soup but lacking seasoning. The large toasted cheese crouton makes up for the soup."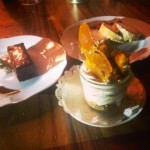 Mac and cheese is a 14th century British creation, not American as widely perceived. Here it's served as a small casserole of rigatoni pasta, not traditional macaroni, baked in a béchamel and gratinated cheese sauce (a mix of parmesan and cheddar I think?) Addictive, classic, soul food.
Six-hour smoked beef chuck rib with coleslaw – "a hungry man's portion of smoked ribs – tender meat coated in a very distinct smoky flavour. So intense, avoid ordering if you don't appreciate smoked dishes."
The fried chicken nuggets we all agree is the star dish of the night, and one you must order. "Delicious golden chunks of boneless, plump meat coated in a mouth-watering crust, so buttery and velvety – accompanied by an understated mixed condiment of tomato sauce, mayo and mustard."
Our side orders – fine green beans are wok-fried al dente in a sweet, tangy, garlicky XO sauce; grilled corn on the cob arrives with lashings of spicy peri-peri butter and a sprinkling of fetta; triple fried chips are extremely late arriving and under-seasoned. The freshly made tomato sauce is the only noticeable aspect of this dish.
The cocktails are lethal – a twist on a Bloody Mary and a margarita. Minimal choice but as the booze license has only just rocked up, I expect the drinks list will grow.
Desserts are playful childhood flashbacks. A snickers cake is reincarnated with dark chocolate ganache, but whilst layers of caramel and peanut butter take centre stage, it's missing some nougat. A banoffee with cookie crumbs, caramelised bananas, whipped cream and toffee is served as a layered parfait in a jar – each ingredient well balanced. We relish every morsel. Sadly the Arctic roll severely disappoints with the sponge cake surrounding the vanilla ice cream, dry and inedible – "the raspberry sauce does nothing to uplift this frozen disaster."
So much so, our waiter takes note asking for our feedback and when the bill is presented, we are not charged for desserts. A welcome surprise, but right from the start, service from our waiter and waitress is efficiently smooth explaining the concept and answering our questions on specific dishes. A miscommunication leads to a portion of edamame instead of mushroom empanadas which she rectifies bringing out the correct dish, albeit late – "piping hot. Good consistency with a buttery crust and very rich mushroom filling."
But food and service aside, I adore the vintage industrial interior – from the exposed ceiling and rustic beams through to the retro chairs, round utilitarian tables and whisky barrel floors – complete with Coca-Cola ice box. And all whilst soaking up the beautiful views across Dubai Marina. I take this snap around 8.30pm on a Thursday evening – within an hour the restaurant is buzzing – as is the glassed-off bar area. It really lives up to the marketing blurb of a neighbourhood eatery. A wonderful laid-back vibe that goes hand in hand with an extremely well priced, bordering on cheap menu. Our dinner averages to AED155 per person, and cocktails a ridiculously low AED38.
Well done for creating a licensed restaurant concept in New Dubai at a more than affordable price – but that's no surprise given it's the same peeps behind Q'bara. Some dishes, in particular desserts require tweaking, but otherwise Fümé ticks the service, atmosphere, location and price point boxes. I'd like to return for brekkie and lunch. In the meantime, here's to a 3.5 out of 5 FooDiva knife rating.
Add this spot to your Dubai dining bucket list, as I will. The website claims reservations are not required, but trust me, on a weekend, you would be wise to book ahead.
Have you visited Fümé? Would you choose to dine out on simple, soul food that you could perhaps cook at home?
A bientôt.
FooDiva. x