A raw dining experience in Dubai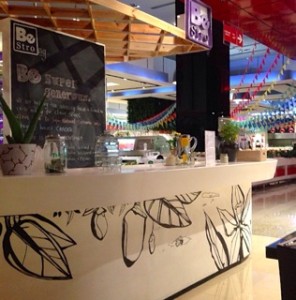 The opening of a raw vegan pop-up restaurant in Dubai, Bestro has received all types of reactions – surprise, curiosity and most of all confusion. So what is a raw vegan diet?
Let me first explain this particular lifestyle. Raw veganism is a diet that combines the concepts of veganism and raw foodism. It excludes all food and products of animal origin, as well as food cooked at a temperature above 48°C  – but includes raw vegetables and fruits, nuts and nut pastes, grain and legumes, seeds, plant oils, sea vegetables, herbs and fresh juices. If this hasn't shocked you, how tasty food like this can be, will do. Avid practitioners also avoid all clothing produced from animal products, like leather for instance.
Dubai Mall isn't exactly the first place you would think to find a raw vegan restaurant, but Bestro is tucked away in Lafayette Gourmet in the middle of the (smart) food court. Arriving for dinner with my date (a big meat eater), I am surprised to see the cosy place buzzing with families enjoying raw vegan food, a sight I welcome.
The staff are super friendly offering advice on how to live a more veggie-filled lifestyle. It is so warming to see them passionate about the food which just goes to show this is a lifestyle and not just a diet. As the waiter explains, "It is not about how many calories we consume, but the nutrients consumed."
A look at the menu shows that we are quite limited for choice, however all options sound inviting. I settle for the spaghetti and house pizza breads, while my date orders a curry. So how can these dishes be raw and vegan? Well the spaghetti is made of spiralised zucchinis, the pizza with raw crackers consisting of seeds and nuts, while the curry is dehydrated vegetables with cauliflower rice. Needless to say, my carnivorous date is not so excited at this point.
With no cooking required the food is quick to arrive. My date is not impressed with the curry being cold, but went on to eat it anyway. I on the other hand, take one bite into my raw vegan pizza and I am sold! Raw, vegan, yet so full of flavour. The tomato sauce on the cracker is the right blend of spicy, tangy and sweet. Olives add a more authentic pizza experience. Next up are my zucchini noodles, perfect for a low carb lifestyle. This does not disappoint either – a similar tomato sauce dresses the zucchinis which makes this a big hit for me. The rather bland curry does not live up to our Italian feast of spaghetti and pizza. Having said that, a raw vegan curry is rather hard to create. The food portions are quite small so sharing is encouraged – we have three main platters between us.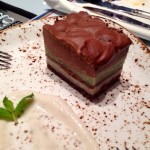 And then we indulge in dessert, especially with no guilt attached. On the dessert menu I pick mint squares with a chocolate mousse layer. I have to admit, I am not sure what to expect but it's actually a cake – so decadent and silky it just melts in my mouth. Yes, only my mouth, none of this baby is left for my date. It simply makes you forget that not only is it raw and vegan, but sugar-free and organic too. Who knew vegan food could be so tasty?
I have always been an advocate of healthy eating, so I welcome this lifestyle with open arms in Dubai and will definitely look to return for guilt-free fare, desserts in particular.
Do you think there's enough of a market in Dubai to embrace a raw vegan experience?
Rana.
So who's our new guest reviewer, Rana? A homegrown Dubai food blogger passionate about healthy food, she eats her way through the fusion of flavours served in the city she loves.