10 dining and drinking gems in London
As much as I prefer visiting cities that I've never set foot in before (am one of these peeps who rarely watches a movie twice), London is one destination I love returning to time and time again. Perhaps because I lived there for five years when I really couldn't afford to dine out and drink, like I do now. So I regaled you with a couple of posts last year on London food trends Dubai should eat up, and a restaurant round-up, it's time for a refresher thanks to a whirlwind foodie press trip with Marriott and Qantas a couple of weeks ago. So voilà, here's FooDiva's ten dining and drinking gems in London that I cherry picked from this visit.

DINE
1. City Social – the latest hot opening in London is chef-cum-restaurateur Jason Atherton's (who worked for Gordon Ramsay including Dubai's Verre) City Social in Tower 42 in what was Gary Rhodes' restaurant Rhodes 24. At the stove is Chef Paul Walsh, another Gordon protégé, evident in his classic French cooking style. Think roasted quail with peas, broad beans, pancetta and a drizzle of sauce diable for starter, followed by line-caught Cornish sea bass with deep-fried oysters, cucumber, textures of cauliflower and an oyster veloute. Both the Art Deco-inspired bar and restaurant have gorgeous Gherkin views – blag the semi-circular banquette tables. I was introduced to Jason at Q'bara last week (chef groupie that I am) and his first restaurant here, Dubai Marina Social at the new Intercontinental, is on schedule for an end-of-year opening.
2. Lanes of London – now this newbie which opened in January on Park Lane goes down as one of the most novel concepts I bump into on this trip. Given the capital's multicultural diversity, the menu and cocktail list is built around four different lanes each representing a different cuisine and its street food. So for Portobello Road, we taste British – scotch eggs (did you know Fortnum & Mason first created these in the early 18th century?) with Piccalilli pickles – and beef brisket sliders with roasted bone marrow and horseradish. Moving on to Kingsland Road for Vietnamese – pho bo (beef rice noodle soup) and a spicy green papaya and prawn salad – both as good as those I ate in Vietnam last year. My Ho Chin Mary, a new take on a Bloody Mary has a meaty Pho flavour with lemongrass. At Edgware Road, Arabic calls with kofta kebabs, babaganoush and fattoush salad. On Brick Lane, it's little India with butter chicken, cumin rice and paratha bread, plus a veggie samosa salad. And for a sweet ending, home-baked jammy dodgers rule, as does a Valhrona dark chocolate torte. A pear cobbler and a mango and coconut kulfi (Indian milk ice cream dessert) finish us off…literally. But what I love the most about this concept is that this month they are bringing in popular London street food traders to work with the kitchen team creating special dishes. So restaurants are now taking inspiration from the street and elevating these eats to posh dining – hats off to Lanes.

3. Ceviche – with Coya opening in Dubai at the Four Seasons later this year, I wanted to try Peruvian in London – but not Coya ;). I've only ever dabbled in a little Peruvian at The Act, Story and at Zuma where they are testing out some Coya dishes. And to an extent Nobu whose Japanese fare is Peruvian inspired. I couldn't get a reservation at Michelin Lima (and I don't like blagging favours), so I settle for Ceviche smack bang in Soho on Frith Street. It's a teeny dark joint of the kind that Dubai lacks – the closest we have here is Café Habana at Souk Al Bahar. With a Pisco bar as you walk in and the restaurant tucked behind, oh my does it ooze atmosphere. Start with a Pisco Sour, Peru's signature brandy cocktail for sure. The dishes are all small plates designed for sharing. Ceviche is Peru's national dish – try the sea bass marinated in key lime and chilli – and my favourite, razor clams marinated in pisco and lime juice topped with salsa, salmon roe and purple seaweed. Anticuchos, spicy barbequed and sizzling skewers, are common street food fare. The lomo saltado is inspired by Chinese Peruvian food – sliced beef fillet, flame-cooked with red onions, tomatoes and chunky chips. Delicious, exquisite fare.
4. Polpo – I've tried this Venetian bacaro (similar to Spanish tapas) before in the original Soho location, but this time we head to Covent Garden for pizzette topped with spinach, parmesan and runny egg; prawn and artichoke linguine sprinkled with bottarga; mackerel tartare with horseradish sauce scooped up in crispy flatbread slivers and steamed asparagus, broad beans, peas with mint. Casual, simple and sublime. Other locations in Smithfield and newly opened Notting Hill.

5. Maze Grill and Maze – two of Gordon Ramsay's restaurants – the latter with one Michelin star. Guess who's the exec chef? Matt Pickop who you may remember from Verre at Hilton Dubai Creek. So lovely to bump into him, and Gordon who whizzed straight into our tour (and back out again!) Sadly I only try Maze Grill, the casual restaurant (steak aside, the Spanish style garlic prawns are moreishly good with chunky bread – as is the egg and bacon brioche bap for brekkie), but if you do get a chance to dine at Maze, book yourself the chef's table – a square banquette in the heart of the kitchen action. There's also a new sushi bar where you can sit and order directly from the Japanese chefs.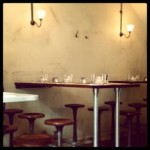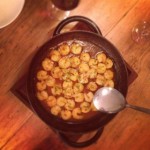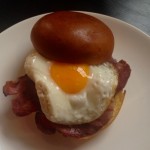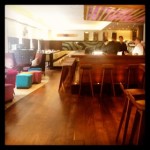 DRINK
6. Luggage Room – a London friend describes this underground cocktail bar tucked away in Mayfair's Grosvenor Square as a 'speakeasy', which appears to be a bar scene trend in the capital. Very 1920's retro. Love it so much I head there twice – once for Bellinis (with fresh peach purée) and later for my current tipple of choice, a Pisco Sour.
7. Gillray's Bar – now aside from the odd tipple of Pimm's, I am not really a gin drinker. I do think it's a depressant 😉 But somehow Gillray's on the South Bank with a collection of over 70 different gins and a star mixologist manages to convince me otherwise with a ginger sour-bitter concoction. And I saunter out with a smile :). Love their retro sunshine yellow high-back sofas. Do try the mini Yorkshire puds as canapés. Oh and the neighbouring restaurant does a wonderful full English breakfast.
8. The Red Bar – yep you guessed right, it's red all over, lighting included. My scarlet living room (I adore the colour) pales in comparison. This bar sits in the JW Marriott on Park Lane, but with a separate entrance and plenty of nooks and crannies. I nearly opt for a glass of champers, but so glad I settle for a well-mixed and generous dirty martini. Next door is the JW Marriott Steakhouse which you'll know from the golden oldie and much-loved outpost in Deira, and it's just as good.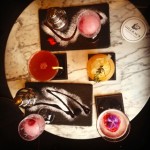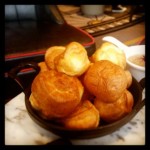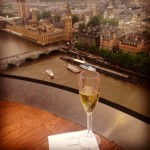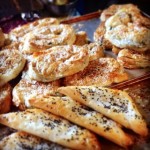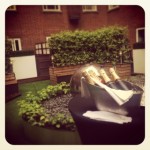 SEE (while eating and drinking)
9. London Eye private pod – now I've been on the London Eye before as am sure you have, but this time round I do it in style. A private capsule hired out for a 30-minute rotation complete with Pommery champagne, canapés and best of all, a lawyer-turned-guide pointing out London's historical buildings and quirky facts. Now it doesn't come cheap. For ten people it will set you back GBP £966 – which actually when you think about it per person, isn't too bad.
10. Borough Market – last but not least and probably the highlight of my stay, London's famous food market. I don't know why I've never been, probably because am such a diva much preferring top notch dining experiences. Unlike your perception perhaps, it's not just a market for grocery shopping, but with many street food stalls selling lunch (closed on Sundays by the way). I stuff myself here with a straight-out-of-the-oven spinach and Greek fetta filo pastry pie, followed by a barbequed pulled pork and coleslaw bap, and for afters, raclette (with a Somerset not Swiss gruyere!) on new potatoes – washed down with hot cider. Heavenly. The market is also the home to Brit restaurant, Roast – and many a tapas bar and pub.

A couple of other places I pop into but sadly run out of eating time:
Balthazar in Covent Garden – the New York French brasserie import – looks identical to the one I dined in a few years ago.

Koshari Street – tiny joint on St Martin's Lane in Covent Garden selling variations of the Egyptian rice, lentil and vermicelli street food dish – with Anissa Helou as consultant chef. Ship it here please!

And a few other restaurants I didn't manage to get last minute bookings (not helped by bank holiday weekend closures!), so are on my wish list for a future trip – Dinner by Heston Blumenthal, The Ledbury, Ametsa and Dabbous.
A few housekeeping notes:
FLY: Did you know Qantas flies direct from Dubai to London and back? Well I didn't until the PR contacted me. Two daily flights into and out of Heathrow. Economy flights start at AED4,445, premium economy at AED9,705, business at AED16,895 (I can vouch for the lie-flat bed, the menu developed by Neil Perry of Sydney Rockpool fame and the Billecart-Salmon champagne) and first at a staggering AED31,265.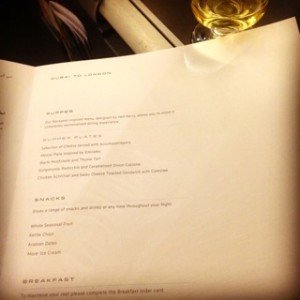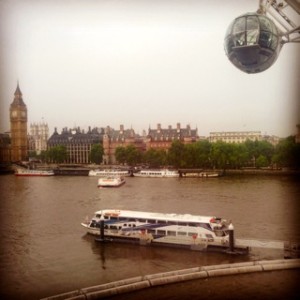 SLEEP: I sleep in three different hotels – yep lots of packing and unpacking and I don't travel light ;).
London Marriott Hotel County Hall on the South Bank, a listed building overlooking the London Eye and Big Ben – remember to draw your curtains!

Grosvenor House JW Marriott sits smack bang on Park Lane and where the BAFTA awards are always held. We do spot some famous rugby hotties – Barbarians I think?!

Last but not least, my favourite for its intimacy and boutique feel, the London Marriott Hotel Grosvenor Square – just off Oxford Street in posh Mayfair. Ask for the guest rooms with patios overlooking a secret garden.

So FooDiva Friends, have I tickled your palate enough to plan a summer holiday in London? Any other newbie restaurants and bars you've checked out recently?
A bientôt!
FooDiva. x
Disclosure – FooDiva was invited by Marriott and Qantas to report on London as it looks to boost more visitors from this region. I may have been plied with copious amounts of food and booze but rest assured, as always, the opinions expressed here are mine alone. Note, I paid my own way for my meals and drinks at the non-Marriott venues mentioned here.