Is the cuisine at Catalan cutting edge?
Having lived in Barcelona, I have always been intrigued by Spanish cuisine.  It's vibrant and embraces culture.  My most vivid memory of Barcelona is the famous Boqueria market, Mercat de Sant Josep in Las Ramblas.  This is where I savoured the most bewitching paella ever – simple, with bursts of Spanish flavour. No other paella has ever come close.
For this reason I wanted to experience Catalan at the Rosewood Abu Dhabi. Chef Antonio Saez from Barcelona, who has worked under renowned masters such as Martin Berasategui and Ferran Adrià runs the kitchen at Catalan.  At the age of 29, he became the youngest chef in Spain to win two Michelin stars for his restaurant (Lasarte).
We were greeted by elegantly dressed staff who graciously showed us to our table. Only seating 45 people, it was very busy for a Friday night. The restaurant is intimate, with a monotone colour scheme. The only thing that fascinated me was the Gaudi-inspired wooden floor which felt as if a part of Spain was with me. Otherwise the dining room was sterile.
A waiter arrived with a very voluminous wine menu. After perusing it, I am glad to say I was distracted by him enquiring if we would like to try a complimentary glass of Vilarnau Brut NV from Spain. It was light and fresh, well balanced, bright and bubbly.  Back to the wine list, we opted for a Finca Resalso 2011 Tinta Fina – with a cherry colour and intensity, a hint of berries, a subtle woody flavour and a pleasant aftertaste.
Some complimentary nibbles arrived which immediately caught my eye.  The waiter explained them to us with confidence.  We started off with a liquid olive on a spoon. It was a strange experience where your mind is confused and amused at the same time.  Initially there was no taste of olive, until the thin film that encased the olive liquid burst and suddenly my palate recognised the taste and there was excitement at the dinner table. A tiny cloud of chicken croquettes were light yet with packed with flavour. A tomato bruschetta, a staple at any Spanish table, burst with sun-ripened soaked tomatoes.  Small bottles were filled with cucumber gazpacho – intense flavours of crisp cucumber that were very refreshing to the palate.
An amuse bouche was served a short while later with a tomato puree housed in a beautiful blown glass vessel, accompanied by perfectly brunoised vegetables. Tastes and textures were clean and crunchy – almost as if I was biting into a sun-kissed Spanish tomato. For starters I ordered the slow-cooked eggs with truffle cream. The eggs were cooked perfectly, runny yolks encased the truffle cream which wasn't overpowering.  Panko breadcrumbs offered a favourable texture to the dish.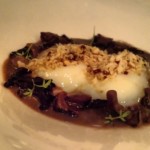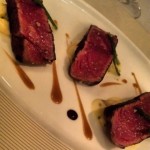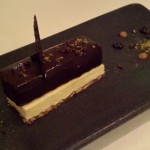 For main courses, our party of four chose a variety of dishes as I was envisaging Chef Antonio would combine his culinary experiences into Gaudi architectural food structures on plates. The beef tenderloin, creamy gnocchi with Comte cheese, black olive puree and foie gras emulsion was succulent and well cooked.  The gnocchi had subtle tastes of Comte cheese and complimented the beef well.  The Finca Resalso was an exceptional match for this particular dish.  The slow-cooked oven roasted lamb, creamy potatoes, goat cheese confit of 'piquillo' peppers was a slight disappointment. The lamb was tender but lacked flavour and once combined with the peppers and goat's cheese, these two ingredients dominated the lamb.  The oven-roasted monkfish was accompanied by a very potent tomato coulis, but on the whole, the fish was perfectly cooked.  The final test was the Catalan seafood paella, which had waiter service interaction at the table where he serves you from a traditional paella pan.  The paella rice was cooked al dente but there was a dominance of seafood and no other flavours radiated. Like I mentioned, no paella has ever come close to the vibrant flavours I tasted at La Boqueria.
Onto dessert and I opted for the milk and chocolate mousse with vanilla parfait and peanut praline – very rich, yet the mousse was creamy and exceptional.  The peanut praline was slightly burnt but offered a good texture.  The parfait erupted with vanilla and complimented the chocolate.  The passionfruit soup with berries and yoghurt ice cream was a very light dish after a long meal.  The soup was poured at the table by the waiter. And the colours were vibrant, whilst the flavours were crisp and refreshing.  The yoghurt ice cream was superb. A good way to end the meal.
The menu is well rounded and offers a choice of many different items for the more discerning guest.  There are also two tasting menus – a three-course and a seven-course menu which can be paired with wines.
Service in between courses ran elegantly and the waiter was well educated on the menu, explaining all dishes to us with accuracy. You couldn't fault the service. The final bill came to just under AED230 per person excluding wine and beverages – extremely reasonably priced.
Catalan was a wonderful experience but I felt it lacked the vibrancy and flavours of Spain.  The presentation of food was good but with Antonio Saez' culinary background, I expected more molecular gastronomy techniques, and Gaudi-inspired masterpieces. Maybe Abu Dhabi is not ready for such innovation yet, would you agree? With that in mind and the uninspiring dining room, I am giving Catalan a 3 out of 5 FooDiva knife rating. Have you dined at Catalan and what did you think?
In the words of Julia Child 'bon appétit'.
Liesl.
So who's guest reviewer Liesl? "I have been a chef for 20 (odd) years, incorporating my many travels and experience with an intense passion for food.  I have called Abu Dhabi my home for the last four years where I work as a private chef.  I love food, exploring new cultures and people. I will probably die doing what I enjoy best, and that is cooking!"