How does the new Table 9 by Darren Velvick compare?
Dubai; I can't work out whether I am a fan of menus with dishes listed by ingredient only and with zero indication of cooking style. On one hand, I welcome the simplicity and the element of surprise, but on the flip side, I have to ask the waiter 101 questions to help decide. Perhaps I don't like surprises after all. Anyhow, that's one aspect of Table 9 at Hilton Dubai Creek that has not changed with Chef Darren Velvick taking over from Scott Price and Nick Alvis earlier this year. More in my interview here.

The à la carte menu is compact with five choices for each course – AED275 gets you three courses or AED225 for two. Alternatively, there's a four-course tasting menu with up to three choices for each at AED325, or a set six-course tasting menu for AED400 – plus optional wine pairing. The restaurant manager explains that we can mix and match, but I am presuming that's only because of who I am dining with – luckily it's not FooDiva who's been recognised for a change. In principle that makes for a brilliant selection, but only serves to confuse our party of five even more. And to top it all off, the menu design sports one font, one typeface, one colour. Not easy on the eye. Sorry I am being pedantic here I know, but I am a stickler for good branding and this one doesn't fall in that category.
Anyhow, after much deliberation over so many tempting dishes we settle on the four-course tasting menu and make our choices. That's 14 different dishes, given we dovetail on a few. Now don't expect an explanation of each one, otherwise this post will be as long as the drive to Deira, which for a Thursday evening actually isn't too bad – half an hour door to door from New Dubai for an 8.30pm booking. So what do I pick?
My first starter is a scallop dish marinated in lime, Peruvian ceviche-style, but here we have generous, sublime slices with just the right amount of zest – dotted with teeny dollops of avocado purée. Diced apple and slivers of cucumber make for a refreshing garnish.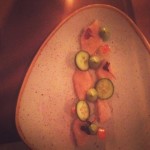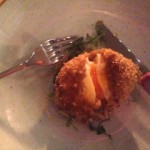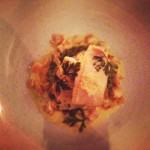 My second starter and the star dish of the night – an opinion shared by my fellow diners – a locally sourced crispy hen's egg and a bloody huge one at that, but not a scotch egg – simply coated in curried breadcrumbs and fried. Isn't it a beauty? It oozes with wholesome runny egg which a bed of miso leaves sprinkled with apple and raisins help mop up – delightful.
For main, I nab a dish from the six-course menu – a fillet of plaice, so perfectly seared it gently falls off the fork, perched on a bed of exquisite, al dente parsley risotto. A clam sauce is poured at the table. What a wonderful medley of textures.
As for my companions' dishes, the three other starters all impress – a fresh crab, a foie gras coated in ginger bread and snails with bone marrow. For mains, the sweetcorn pasta with parmesan and truffle gets the thumbs up, but sadly a pretty salmon dish smeared with tahini and sumac is overcooked – as is a short beef rib with three textures of broccoli.
Desserts are the weaker link though. We select five to share. This dainty, pretty-as-a-picture lemon meringue and some teeny cinnamon beignets work well, but the carrot cake is uninspiring and far from moist, whilst the deconstructed cornflakes with milk and honey disappoint. As for the mini chocolate fondant, take it or leave it I say, but others enjoy it.
Clearly some dishes work better than others. Portions are very generous so you definitely get good bang for your buck here. Chef Darren's cuisine is less creative and playful than his predecessors, but bar desserts, he balances wholesome goodness with the odd twist, and in most cases, excellent execution. There's also a decent selection of wines by the glass which rather unusually for Dubai is showcased on the Table 9 website.
The style of the service appears to be relaxed, but in reality it's over-friendly and a little nervous. One example – I am wrapping my arms round my shoulders as I sit down because of the intense air conditioning and I am asked if I am scared…no just reduce the A/C pretty please. Furthermore, knowledge of all the dishes has not been mastered, which is even more essential for this kind of menu.
Now I am not gonna talk about the décor because no surprise it's still the same old Gordon Ramsay look. In a town, where snazzy interiors are the norm, the owners of Hilton Dubai Creek seriously need to invest in a redesign to match the change in concept before another chef leaves. Surprisingly there is a gentle buzz and only the odd unoccupied table, so perhaps location is not as big an issue as it has been. Mind you, I would still prefer if Table 9 was at the Conrad or even the Waldorf Astoria. Until then, here's to a three out of five FooDiva knife rating.
How do you feel the new Table 9 compares? Does the décor and location deter you?
A bientôt.
FooDiva. x