Sapori Di Bice – a casual, al fresco Italian restaurant
Sapori Di Bice is the first casual Italian restaurant by the Bice family and it sits in Jumeirah's new al fresco Citywalk mall, where high-end shops and eateries are dotted around a courtyard. Palm trees lead us straight to the restaurant's Parisian-style outdoor café for a weekend lunch, but the Burj Khalifa skyline is no longer in direct line of sight.
The terrace seating is close in proximity, but not at all cluttered. Inside, it's a quaint restaurant with petite white-washed furniture, whilst window displays of delectable sweets and fresh produce adorn the shelves giving it a friendly and picturesque vibe. It's a busy spot but not crowded.
Sapori Di Bice sets out to be a casually chic Italian family dining concept. The menu has three options for sharing platters, whilst the rest comprises breakfast, morning coffee break and afternoon tea dishes. It's then onto appetisers, soups, salads, sandwiches, pasta, seafood, pizza and of course desserts. Upon request, Sapori will substitute certain ingredients for gluten-free and organic. We ask the waiter for his recommendations and he replies immediately and confidently, so we decide to test him out.

The bread basket with two dips, which is chargeable I should add at AED20, has two different types straight from the wood-burning oven in the corner – one is focaccia, soft and smooth with the combination of oil and slithers of tomato, and the other is powdery, hard and stale. I dip the bread into the cream cheese, and it is silky and dense on the tongue. The other dip is comprised of smashed olives in oil. With a Middle Eastern background, my love for olives is innate so I make sure to lick the plate clean. The dip's portion is small though, we can't get enough.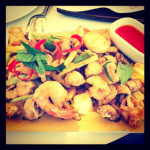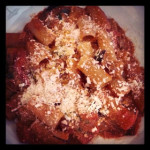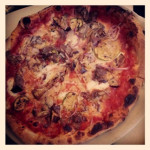 The fritto misto is an attractive dish fried to a golden crisp. This dish is like tempura, but better. The zucchini, mushroom and eggplant are simultaneously juicy, crispy, zesty – and addictive. The prawns are moist, but the calamari squid is rancid. Again the portion of accompanying spicy tomato sauce runs out quickly.
In between courses, the table is wiped of crumbs, except that the crumbs are just thrown on the floor which is a turnoff for my cleanliness obsession. For mains, we choose the rigatoni 'norma' pasta and the plate-sized vegetariana pizza. The rigatoni is lightly doused with fresh tomato sauce, eggplant and oregano, and a sprinkling of parmesan. Al dente, slightly juicy but smooth and easy to eat because of the bite-size rigatoni shells. I eat it quickly like I do most pasta dishes, but there's no wow factor.
The presentation of the vegetariana pizza from the wood-burning oven is fresh and ingredient rich. Like authentic Italian pizza, the mozzarella and tomato sauce is used sparingly. It's easy to devour since the base is crispy thin and the distinct taste of each ingredient – eggplants, zucchini, mushrooms, red onions and a little parmesan – is evident.
We aren't leaving without trying dessert so we order a pannacotta to share. Its creamy base is topped with a thinner layer of raspberry sauce, with a sprinkling of berries and pistachios. Gelatinous, slippery and addictively sweet – the highlight of our lunch.
The service is swift and most of the ingredients seem fresh. At AED144 per head for two appetisers, two main courses, a dessert and two ice teas, Sapori Di Bice offers reasonable Italian food in serene surroundings at an affordable price.  The quaint atmosphere is delightful, but the food has its ups and downs, and with similar, successful concepts like Carluccio's who Sapori would compete with, it will have to try a little harder. Where's your go-to Italian cafe?
Sonia. x
Guest restaurant reviewer Sonia Abdulbaki is a PR professional by day and a full time writer by heart. To her, eating is a need, a want and an art. She never maintains a strict diet because that means restricting her curiosity for culinary discovery. She is Lebanese-American and has ventured to Dubai to find her independence and herself, whilst also discovering a new food culture.
P.S – Don't forget to enter our West 14th competition here and win a host of lunches.