A posh seafood shack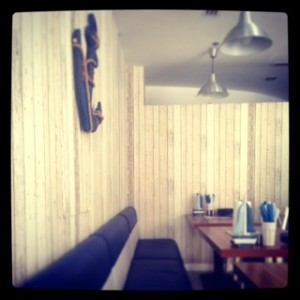 It opened as a fishmonger in response to a desperate need for fresh fish market-style in New Dubai – who wants to traipse to Deira fish market after all? Not diva moi. Mind you, we do now have the Umm Suqueim fish market. Anyhow, not only was it selling freshly caught seafood, but cooking it for take-away and delivery. Demand picked up and customers wanted to eat on the spot. So the owner spruced it up all nautically with charming wood-planked walls, blue chairs, framed anchors and voila we're in teeny Serena's Seafood shack hidden away in the maze of dusty Barsha for a mid-week lunch.
It's all about the catch of the day here with more local and sustainable than imported fish – but sadly again overfished hammour features. I've dwelled on this matter before as you can read in my review of Seaview and the comments – something that requires further research. Choose your fish, how you would like it prepared (salt-encrusted, whole, butterflied or filleted), cooking style and marinade. But appetisers and salads aside, the menu also boasts tagines, pastas, sandwiches and soups – all seafood or veggie. Not a meat bone in sight.
As sweet-natured as our waitress is, she doesn't appear to comprehend our questions or the menu – constantly responding in the affirmative when explanations are required. Very annoying.
Our appetisers arrive first. The tahini is one of the best I have ever tasted, so feather light and smooth. With the accompanying paper-thin crispy flatbread, we demolish it pretty pronto. The fattoush salad however is limp and lacklustre, not helped by an overpowering citrus dressing.
Fish is cooked to order so expect to wait a wee while but at least you can watch the cooking through a glass window. A local species by the name of mias is served whole and blackened on the grill with a rub of bran, garlic, cumin and lemon. Delightfully pretty. Whilst it gently falls of the bone and bursts with a dense meaty flavour, it's a little over-seasoned. Perhaps it has another name, but I can't find any online references to this fish so if you can shed some light please do. Our second fish main is a butterflied sea bass steamed with lashings of butter, garlic and lemon. This would have worked well without the slithers of potato Dauphinoise-style (and our waitress had confirmed it was served solo) which over complicates what should be a very simple dish. Fresh fish requires minimum fuss in my opinion – just the odd spice and a squeeze of lemon or lime. A side order of rich brown Arabic rice is well seasoned with cinnamon and cumin. Good news, this is one of the few such spots in Dubai that serve fresh sugar cane juice.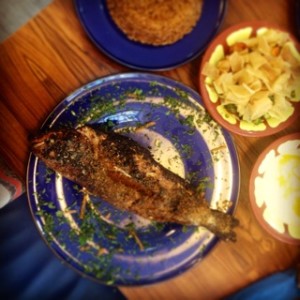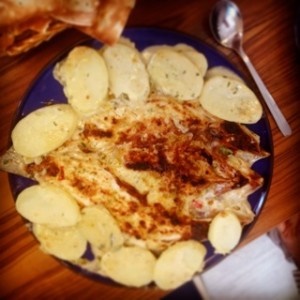 Serena's Seafood is hugely charismatic and a refreshing laid-back antidote to Dubai's bling. Yes some dishes require tweaking (as does the service) but the fish is super fresh and for a bill of just over AED200 for the two of us all in, this is one gem to rival Seaview, Barracuda and even Bu'Qtair. And to top it all off, there's no queue, for now.
What do you reckon? Does Serena's tickle your palate? Where's your go-to fish joint?
A bientôt.
FooDiva. x
P.S – I first came across Serena's Seafood through fellow food blogger Geordie Armani.