Choose Choix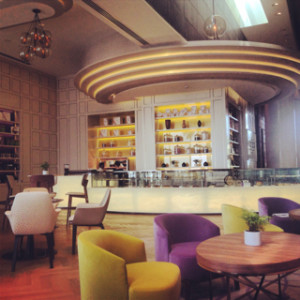 It's been much anticipated and finally it's here. French chef maestro Pierre Gagnaire has opened a home-grown patisserie-cum-café, Choix, at Intercontinental Dubai Festival City perched above his glam dining restaurant Reflets. With a corner open-plan spot injecting much-needed life into the lobby, there's also terrace seating overlooking the creek and Burj Khalifa.
French pastries, breakfast fare and afternoon tea aside, the all-day main course menu is heavily influenced by the cutting-edge cooking techniques Monsieur Pierre is renowned for…like other chef comrades of his genre, he detests the reference to molecular gastronomy.
The steak tartare I order for a quick lunch in between LitFest sessions is inspired by a similar dish in his two Michelin star London restaurant Sketch of which I have fond dinner date memories (digressing but the pod-like loos are worth a visit alone). The beef is hand-cut and gently mixed with teeny diced Comté cheese and celeriac – topped with a glaze of edible gold dust. Well we are in the city of bling after all. Slather it onto chunks of crusty wholemeal baguette to fully appreciate the slightly spiced flavour. On the side sits a tiny dollop of turmeric potato purée aka mash (in fact the menu surprisingly refers to the latter) – a little redundant in my opinion, but it does help balance the simple slate slab of a plate. A portion of pommes frites (French or Belgian – you'll know what am referring to if you've read the Cafe Belge review) wouldn't go amiss but then again, that's not Pierre's style. A couple of bento boxes with signature bites look highly appealing for my next visit, as does his interpretation of eggs 'benedict' with goats cheese and avocado. 
When I pop in earlier in the morning, the pomegranate juice is not freshly squeezed as per the menu and the waitress, which for a dining spot of this calibre is not acceptable. Just don't offer it.
Service in the morning when it's pretty quiet is super slick, but at lunch time with each of the dozen or so tables occupied is slow, and I am even served the wrong dish. Efficiently and swiftly rectified I should add. The man himself is in the kitchen, as is his head chef at Reflets. I can tell as the kitchen pass is open-plan. And looks like some of the front-of-house team is the same as Reflets, so I hope the service glitches are just teething issues.
With the tartare at AED85 and other dishes starting at AED45,  it's pretty well priced fare given the calibre of the name above the door. It's just a shame that since we're in a hotel, there's no vino, especially in the evening. It's early days, but if the café's roaring weekend trade of locals, expats and hotel guests, plus my first impressions are anything to go by, then you would do well to choose Choix when you're next in the vicinity of Festival City.
So when we can't afford the full-on Reflets experience, at least we now have Choix. Whether you've dined or not at Reflets, will you give Choix a taste?
A bientôt.
FooDiva. x