A seafood restaurant with a view
No I am not travelling…again. I am passport-less at the moment anyway. This quaint little fishing harbour is in Dubai, believe it or not. And not in Deira, but this side of the creek in posh Jumeirah territory, just next to DOSC (aka Dubai Offshore Sailing Club). There's a new fish market, but more importantly there's Seaview, a newish you guessed it seafood restaurant, with this picturesque view from a smattering of al fresco tables.
It's quiet when I arrive on Saturday for a 1pm lunch with travel writer Haute Compass, but by the time we leave a couple of hours later, every table is occupied, plus a few inside. This is a restaurant to soak up the views over lunch or an early sunset dinner – absolutely no point in going when the weather hots up in my opinion.
With the owners fishermen, it's all about freshly snagged fish and the local catch of the day which you can choose from a refrigerated display indoors – seabream, kingfish, mullet, mackerel, shaari (pink ear emperor), jesh (orange-spotted trevally), hammour, squid and prawns are on offer today. When I question the manager on what is widely perceived as overfished hammour, he explains that at certain times of the year like now, there's plenty of shoals at sea, but only the larger species over 45cm can be caught using smaller nets – to allow the babies to continue to spawn. Anyhow that's a topic worth researching for another post. Personally I find this grouper a pretty bland fish and with so much more flavoursome local species to choose from, I never eat it chez moi or out.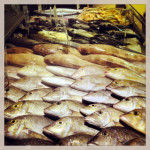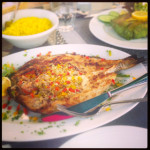 Anyhow moving onto our meal. Generous chunks of kingfish kebabs spiced in the North Indian 'achari macchi' tikka style and baked in the clay oven are super succulent and dense, almost meaty. Talking of meat, there are quite a few chicken and veggie options for non seafood lovers. A tower of prawns fried tempura style, but in a richer batter are moreishly good especially when dipped in soy sauce, whilst our fattoush salad is fresh, crispy and zesty. Be warned, starter portions are huge and our trio fills us up pretty pronto. Sadly our two main courses of barbequed butterflied shari and a banana-wrapped kingfish are overcooked and I tend to prefer fish lightly seared. To our surprise, the latter arrives drenched in a tomato sauce which is not mentioned on the menu. A lemon and herb rice accompaniment is good enough, but next time I would stick to a simpler steamed rice. A Malay flatbread, roti canai, is a little stale, but Ishita Unblogged who first discovered this spot recommends the version stuffed with seafood. On the other hand, a kingfish coconut curry side order is as sublime as Bu'Qtair's, especially as a dip for the piping hot and fluffy clay-baked sesame flatbread. The menu is extensive though and I would gladly return to work my way through a better choice of mains, or else a spread of appetisers, mezze-style.
I am so impressed by the service with a gentle attentiveness throughout our meal, coupled with knowledgeable and authoritative waiters. Seaview is the perfect example of a Dubai restaurant whose location, atmosphere and service outweigh the food, but is still worthy of a visit, especially given the reasonable AED140 per head (with soft bevvies) price point. And that view alone is enough to not miss my passport.
Would you return to a cheap(er) and cheerful restaurant if the food wasn't the highlight? Anyone care to shed more light on the sustainability of hammour?
A bientôt!
FooDiva. x