Peek into the UAE's next culinary festival with a competition – presented by Gourmet Abu Dhabi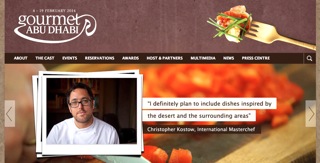 If you love gourmet food and fine dining, well let's be honest you wouldn't be reading this post otherwise, then the capital's annual 16-day culinary festival is just around the corner. Gourmet Abu Dhabi now its sixth year runs from the 4th to the 19th February, and what sets this food event apart, is it's not just in one location, but 20 top-end restaurants will vie for your taste buds.
From cooking demos, themed lunches and opera dinners, right through to vineyard chateaux experiences and even gourmet golf, the visiting celeb chef cast this year has topped 18, including a trio from three, three-Michelin star restaurants around the world:
Massimo Bottura, Osteria Francescana in Italy – also no 3 in the World's Best Restaurants ranking.
Christophe Muller, L'Auberge du Pont de Collonges in France – a restaurant founded by the master of chefs, Paul Bocuse.
Christopher Kostow, The Restaurant at Meadowood in California's Napa Valley.
The festival culminates with industry awards for Abu Dhabi-based restaurants, chefs and front-of-house professionals.
So what do we have to give away to FooDiva Friends across the UAE? Well two prizes are up for grabs:
Invites for two people for two full-day Culinary Creation events hosted by 11 visiting master chefs including Massimo and Christopher on 7th and 8th February at Westin Abu Dhabi. Prize value AED700.
A gastronomic dinner à deux with Greek-Cypriot-Australian Masterchef darling George Calombaris on 16th February at Sofitel Abu Dhabi. Prize value AED1,900. 
Just tell us who is your favourite professional chef in the world and why.
Leave your answer as a comment on this post AND using the submission form below. You can increase your chances of winning by commenting and sharing the competition post on FooDiva's Facebook, Twitter, Pinterest and Instagram channels. Don't forget to mention @visitabudhabi and hashtag #gourmetabudhabi. The giveaway competition closes on 26th January when the clock strikes midnight, and two winners will be picked randomly (through random.org) on 27th January. You will have 24 hours to claim your prizes otherwise we'll have to select other winners.
Find out more about Abu Dhabi's star-studded culinary festival here.

Good luck and a bientôt!
FooDiva. x
a Rafflecopter giveaway