Tong Thai – spicy enough?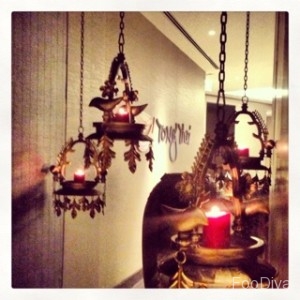 Dubai; I am back again. I, well actually we, follow the hostess as we pass one private dining booth after another, with the most beautiful ornate Thai art adorning the walls. A glorious neon orange-fronted bar. A trio of cast iron Buddhist bells hang over a mock well and fountain. We round the corner and up close and personal sits Tong Thai. I am almost tongue tied…corny I know but forgive me, I am in awe of this stunning dining room decked out in my two favourite colours – hues of orange and red. Glittering lanterns suspend from the ceiling at differing angles, a wall of mini Buddha statues, and floor-to-ceiling French windows wrap the restaurant overlooking Business Bay, albeit only from the fourth floor. JW Marriott Marquis Dubai's Thai restaurant mirrors Atul Kochhar's Indian outpost Rang Mahal just across the corridor.
We nab a window table. It's a Saturday night with only a few tables occupied but it does get a little busier later. We have a veggie amongst our foursome, and for the first time in Dubai I notice a menu highlighting that certain meat and seafood dishes can be substituted for veg. Aside from the usual appetisers, salads and soups, the mains comprise grills, curries, steamed or stir-fry dishes, plus the proverbial rice and noodle options. The waitress happily serves our starters and mains at the same time.
My salad of julienne strips of green papaya and green beans arrives tossed with dried shrimp, a sprinkling of peanuts and of course red chilli – fresh, crisp and crunchy but oh my does it rip my tongue off with the intense spiciness…and I had asked for mild, half-expecting a kilo of chilli given we're in a Thai restaurant. But it's not just me, FooDiva's spice tolerance may be lower, but my dining companions reiterate the same with some of their dishes. Luckily my steamed seabass marinated in lime and garlic, despite the chilli infusion, is much more palatable – served on a bed of Thai celery, a more robust taste than the celery we know. So healthily good, just what I need for a school night detox.
The vegetable spring rolls are beautifully presented in a metal bucket with a basketware handle. My friends' three coconut curry dishes all impress albeit a tad spicy again – a red prawn with sweet basil and baby eggplant, green chicken with bamboo shoots and eggplant, and a green tofu with carrots, broccoli, eggplant and sweet basil – with oodles of prawns, chicken and tofu. Mopped up with steamed jasmine rice served a la minute. The veggie pad thai overflows with stir-fry rice noodles, peanuts, bean sprouts and Chinese chives – am a huge fan of prawn and chicken pad thai, but I must admit this one is just as flavoursome. Our jasmine tea is served in metal cups which scold our hands making it almost impossible to hold without a napkin – not a clever move.
Interestingly, the waiting staff are all female (whilst neighbour Rang Mahal's are male only) – quirky touch, but the service is far too attentive with the waitress constantly checking on us, whilst interrupting our meal to remove plates, even though we have not finished – almost bordering on rude. A real shame and as I've preached many a time before, Dubai's weakest link is the drop in basic service standards.
At AED 130 per head (without booze) the menu is very well priced for a licensed restaurant in a five-star hotel. With a little investment in the right staff training like its steakhouse sister Prime 68, Tong Thai has the potential to spice up Dubai's Thai dining scene and perhaps rival Thiptara. Just remember my preference for mild ;). Here's to a three out of five FooDiva knife rating.
Tong Thai is located at the JW Marriott Marquis Dubai, Business Bay, Sheikh Zayed – fourth floor. T; +971 4 4143000. E; mhrs.dxbjw.restaurant.reservation@marriott.com Online booking also available. Open Tuesday to Saturday for dinner only from 6pm to midnight. Licensed. AED 130 per head without booze.
Have you dined at Tong Thai? Where's your favourite Thai in Dubai – with or without booze?
A bientôt.
FooDiva. x