Dubai has a new chic café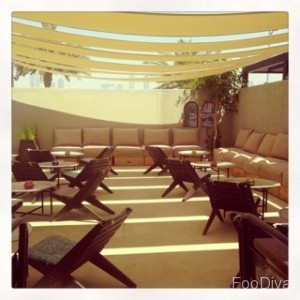 Every now and again, Dubai surprises us with the opening of locally conceptualised eateries, and Comptoir 102 Café is just that, and more. The converted villa's retro Scandinavian interior overlooks an ever so chic Arabian courtyard, whilst the wraparound terrace hides away the hustle and bustle of the beach road. We lunched there al fresco, but don't fret with summer knocking on our door, inside with its bookshelf wallpaper, is just as pretty.
There's a two-course daily changing menu, plus the option of dessert so what you see here is what we ate, but you won't get the same combo another day. In addition, there's a small selection of wraps. Juices and smoothies are made on the spot, evident in my rather tasty beetroot and apple purification juice. The menu has been developed by American chef Chris Clark (don't worry I had to google him), a nutritionist and macrobiotic expert who specialises in low-temperature cooking, steaming, blending, and food combining. Many of the ingredients are locally sourced like the wonderful Baker & Spice, of which some are even grown in-house and others organic and gluten-free. Dishes are prepared with techniques designed to boost digestion and maximise nutrient assimilation.
Our food is certainly healthy yet filling. The tuna, egg and veggie spread with accompanying crudités are wholesome and moreish, whilst the rather unusual salad of crunchy green beans with julienne strips of refreshing, juicy and very seasonal mango makes for a hugely palatable combo. My only qualm is the two main courses (veggie stuffed tomatoes and steamed veggies) are a little lukewarm – not sure if this is intentional in spirit with the macrobiotic ethos, but I would have preferred them hot.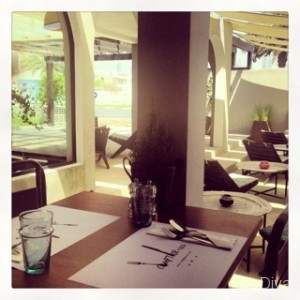 For a weekday lunch, the place is busy, but then again there's only a handful of tables. Service is prompt and pretty switched on. At AED 75 for two courses, Comptoir 102, named after the villa number, offers good value for money. But beware, the integrated lifestyle store it sits in, whilst housing some covetable and quirky home accessories, is ridiculously expensive. I may treat myself to the bird cage lamp though 😉
Comptoir 102 Café is located on Jumeirah Beach Road, opposite The Beach Centre mall. T; +971 4 3854555, E; contact@comptoir102.com Open daily 8.30am to 7pm. Two-course menu AED 75, plus AED 18 for dessert.
Fellow food blogger, Pear Tree Diaries' review is here.
Have you been? What's your take on it?
A bientôt!
FooDiva. x
P.S – if you fancy a Philips and Jamie Oliver steamer and hand blender, click here to enter the competition.
P.P.S – whilst on the subject of local ingredients, I have started penning a monthly column for Atlantis' F&B customer newsletter – click here for my musings on seasonal produce.