Eat like a tsar in the original Russian capital – St Petersburg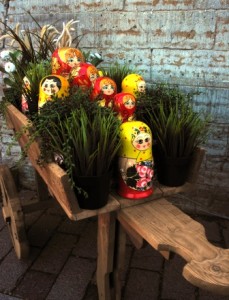 Throw out any preconceptions of Russian cuisine when you head to the country's original imperial capital, St Petersburg, often dubbed the Venice of the North. With culinary traditions inherited from Scandinavian, Mongol, Germanic and of course French cuisine, if you do your research, like FooDiva has, then you're destined to eat like a tsar at extremely reasonable prices…well caviar aside. It's the Russians we have to thank for bringing course by course service 'à la Russe'  to France in the early 19th century, before spreading like wildfire across Europe – so they must know a thing or two about dining in style.
Like many Orthodox cultures, Russian cuisine reaches its peak at Easter, but from what FooDiva saw over midsummer White Nights when the sun hardly sets, there's no need to wait so long. So what can you expect to savour?
Start with a selection of zakuskas or salted, piquant hors-d'oeuvres – anything from cured, smoked fish and pickled vegetables to more modern-day pâtés and terrines. For main courses, venison, veal and duck are popular fodder – not stewed beyond recognition, but seared with subtle flavours, and without an ounce of dill. Needless to say, you'll be swimming in locally caught fresh fish – salmon and herring in particular are plentiful – as is smelt, a small silvery marine fish with delicate flesh from the salmon family. So popular is this gourmet fish, it has had its own smelt festival since the early 18th century heralding the start of spring when the catch is at its prime. Savour it lightly pan-fried in hazelnut butter.
With Russia producing a staggering 1,800 tonnes a year of caviar, ten times as much as Iran, you can't help but indulge in this pricey delicacy of sturgeon's eggs, salted and allowed to mature. Beluga is the most expensive and produced by the largest species – look out for a pitch black pearly sheen, followed by Ossetra (golden yellow) and then Sevruga (light to dark grey). But don't be fooled into sampling so-called red caviar – it's nothing but salmon eggs.
Naturally you won't go carb-free here – starch is everywhere, from freshly baked breads like the balabouchki sour dough and divine doughnuts to the world-famous Russian savoury crepe, the blini and of course potatoes – cooked in their jackets, then peeled and fried with the likes of herring, crispy crackling or garlic cloves.
Wash down with vodka or light water as it's sometimes referred to by Russians. Otherwise tea drinking is a Soviet ritual with the samovar bubbling away on hot coals all day long, concocting a very strong black tea, usually served unsweetened – but thanks to a thriving bee-keeping industry made up for by accompanying honey cake.
Authentic Russian aside, you will find plenty of restaurants specialising in Caucasian cuisine with dishes originating in Azerbajian, Armenia and Georgia – the latter, the more prevalent. Bordered by the Black Sea and Turkey to the south, Georgian cuisine benefits from the region's fertile soil and warm, sunny climate so perusing a menu, you will recognise many a flavour and culinary inspiration from the Med and Middle East – lamb (and pork aplenty) cooked on skewers a la shashlick, or macerated with spices and garlic before being dried to make bastourma.
FOODIVA'S TOP DINING PICKS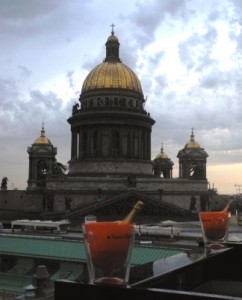 If you can't get to Alain Ducasse's three Michelin star restaurants in Paris, London or Monaco, then his franchised restaurant Mix at the sexy, boutique W hotel in St Petersburg's affluent Admiralty district is a must for local produce prepared a la Francaise yet with a creative twist. Compact, cosy and contemporary with a light brasserie feel, opt for a la carte or the very well priced six-course discovery menu (AED 300) which FooDiva can personally vouch for – the sublime green asparagus risotto in particular. After dinner, head for a nightcap upstairs to Mixup, the stunning terrace overlooking St Isaac's Cathedral and wile the hours away until sunset…which could be well past midnight during White Nights. Whilst you're there, grab a plush room and stay the night.
Crossing the Neva river to the arty Petrograd district, head for Russian cuisine at hidden gem Mari Vanna, named after a mythical 'babushka' granny, transporting you into a traditional Russian abode cluttered with trinkets, stacking dolls and oldy-worldly literature, all hidden amongst the chintz, crocheted doilies and chandeliers. A little reminiscent of Shakespeare's café here. Start with pirogi, a traditional Russian savoury pastry with a variety of fillings – so more-ish FooDiva ordered the cabbage and egg filling for dessert…call me odd. The lightly pan-fried veal fillets served with diced boiled potatoes sprinkled with dill, makes for an excellent main course choice. So successful is the operation, the owners have opened outposts in New York, Moscow and most recently London.
Taking its name from the famed Dostoyevsky novel, The Idiot sits in a house on St P's Moyka canal. Head underground to uncover a haphazard, homely interior with mismatched antique furniture, oil paintings and defunct electrical paraphernalia. Try the imaginative Russian smoked herring 'sushi' substituting blinis for rice – beautifully presented especially when washed down with a complimentary shot of the light stuff.
Hochu Harcho
You simply cannot leave St Petersburg without dabbling in Georgian cuisine at the city's most authentic joint, Hochu Harcho (spelt rather differently in Cyrillic). Dare I say the strong Middle Eastern influence is evident as soon as you walk in, and meander upstairs to the open plan kitchen with the chefs tossing bread. Start with suluguni cheese – pickled with a slightly sour, salty flavour – served fried with tomatoes. Move onto succulent pork shashlick kebabs served on the skewer with a side order of potatoes baked in their skin with lard. T; +7 812 3103236.
The Summer Terrace at St Petersburg's imposing grand dame hotel is the place to sample smelt fish dishes in spring – smelt bread included. Otherwise opt for the Caviar Bar & Restaurant, which c delicacy aside, has its very own vodka sommelier.
Café Singer
Pop into Café Singer for some respite from the hustle and bustle of Nevsky Prospekt – St P's Champs-Élysées. Gawp at the stunning Kazan Cathedral from a prime window seat, whilst indulging in caviar and blinis, topped with smetana sour cream, chopped egg, red onions and chives. T; +7 812 5718283.
Food aside, St Petersburg is a cultural and historical haven – here's a sneak peek.
Emirates operates daily return flights to St Petersburg from Dubai. Most nationalities require tourist visas in advance so check with your local Russian consulate (rather laborious process so plan well ahead). Also bookmark St Petersburg Tourism Information Bureau.
If you can't escape, then try your culinary hand at some tummy-filling traditional Russian recipes from American Jennifer Eremeeva, a long-time resident of Moscow – and the food blogger behind Moscovore. Either way, priyatnogo appetita!
Have you visited St P? Where are you holidaying this summer? I'll be hot footing it to Zanzibar – any tips drop me a comment pretty please.
A bientôt.
FooDiva. x
P.S – this post has been adapted from a feature I wrote for the August issue of ITP's Gourmet magazine.