The new Riv on the block – how does it fare and compare?
Dubai; When Rivington Grill first opened at Souk Al Bahar three and a half years ago, hardly anyone had heard of the Caprice restaurant brand, Brits included, despite its original Shoreditch location. It has since taken Dubai by storm with its electric atmosphere and in FooDiva's humble opinion, for truly mastering the art of consistently excellent service, without an ounce of upselling so prevalent across this city. I am not at all surprised to see a second location open in New Dubai at Madinat Jumeirah's souk replacing Moroccan eatery Shoo Fee Ma Fee.
With much larger premises right next to The Agency and main dining room aside, the new concept also houses a dedicated bar and lounge on the first floor, as well as a large private function space on the rooftop for the cooler months. The interior echoes a similar simple and minimal brasserie feel as its elder sister – well that's what happens when you use the same designer, Martin Brudnizki also responsible for another Caprice brand, The Ivy Dubai. Bright cobalt blue soft furnishings and wooden panelling set against white-washed walls and funky neon artwork create a convivial and relaxed ambience. Terraced tables overlook Madinat's waterway – it may not have views of the magical fountains, but we snatched a peek across to the iconic Burj Al Arab.
The back-to-basics British menu (pretty much identical to Souk Al Bahar) prides itself on simple dishes using high quality seasonal ingredients at reasonable prices – with some of the starters and salads served as mains if you fancy a larger portion.
From left to right: Devonshire dressed crab, seared scallops, roast lamb loin.
FooDiva's starter of Devonshire dressed crab was exceedingly good – ever so thin shreds of white crab meat set atop an egg, chive and watercress mayo mix – served with lightly toasted wholemeal slices. The crab meat was so fresh and sweet it could have been locally caught that day. A more-ishly comforting British dish. My friend's plump and silky seared scallops, a signature Riv dish and best-seller, is now served with seasonal samphire and a mint pea vinaigrette, replacing the original cauliflower and sauce Jacqueline accompaniment – melt-in-your-mouth perfection.
Grilled spatchcock chicken, passion fruit Eton Mess, British cheese platter.
My chicken main was prepped a la spatchcock, basically butterflied by removing the backbone and sternum and flattening it out before grilling – soft and succulent – with a wonderfully flavoursome thyme and garlic dip on the side. I much prefer sauces served separately, so you can add or dunk in as much as you like. That's exactly what my crisp and addictive pommes frites alumettes did. Al dente green beans with a sweet shallot confit rounded up FooDiva's main. Friend opted for a roast lamb loin dish of the day, served perfectly pink with a side of mashed potato – both polished off with a smile.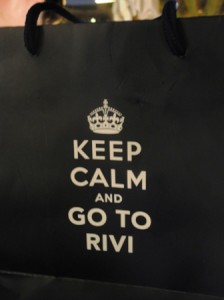 Riv or Rivi, as it's affectionately known is quite famous for its desserts if you like traditional English. I've been known to pop into Souk Al Bahar just for tea and cake, and believe me it's worth it. The Eton Mess called out to me, but our rather shy waiter didn't appear to know whether it was served with strawberries, any other berry or fruit ingredient – after much toing and froing – a passion fruit concoction arrived. Slithers, seeds included of this zesty, sweet yet acidic tropical fruit (imagine all-in-one lemon, guava and pineapple) jumbled with chunks of meringue and lashings of cream – thank goodness no ice cream like Marco Pierre White's recipe. Am no dessert diva, but oh my did we ooh and agh wiping our plate clean in no time. A nibble of a British cheese trio, Stilton included straight from Covent Garden's Neal's Yard Dairy helped finish off our Australian Shiraz (Stump Jump). We much admired our takeaway bag (for the leftover cheese)…very in keeping with Jubilee weekend.
A Friday night and the atmosphere was buzzing in and out – perhaps not as much as its sister but Madinat naturally does attract more of a tourist clientele. Our only quibble was surprisingly for the Riv, its service, given the restaurant has been operating for over two months. Whilst our waiter was clearly trying and service was prompt, he would have benefited from intensive menu training – avoiding a call-out to the head waiters every time we had a query.
At AED450 per head for three courses including a reasonable bottle of vino and water, the Riv continues to deliver value for money in an upscale location. Food was exquisite with Chef Simon Conboy spotted in the open-plan kitchen, but sadly the service does need a polish for the new Riv to compete with Souk Al Bahar. Here's to a four out of five FooDiva knife rating.
Rivington Bar & Grill is located at Souk Madinat Jumeirah, Dubai next to the Agency wine bar. T; +971 4 366464. E; reservationsmj@rivingtongrill.ae Licensed. Open daily for dinner and for lunch on Friday and Saturday. Price per head including vino AED450.
Have you dined at the new Riv? Which is your favourite? What's your experience?
A bientôt.
FooDiva. x