See, swirl, smell, sip and savour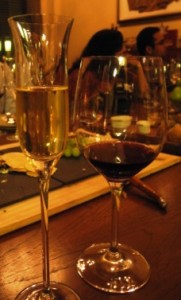 Dubai; Which country do you reckon is the number one producer of wine in the world? If you don't mind, I'll keep you in suspense a little longer – but what I will tell you now is the fifth is China – not surprising, I guess, since the likes of Moet Hennessy have announced plans for wine production there. Following swiftly in sixth place is Argentina and the reason FooDiva found herself at Asado, the Palace Old Town's Argentine restaurant for a wine appreciation class or as Sarah Belanger, the French-Canadian sommelier enthused "a journey of discovery to taste Argentina, with a dash of Chile."
But may I bore you with a teeny history and geography lesson first?
It was the Spaniards who brought their vines to Argentina back in the 16th century planting them in Santiago first before spreading across the country, followed by the Italians, the Swiss and more Spaniards in the 19th century – but the export market only really took off in the 1990's once these vineyards had established themselves.
Argentina's climate is very similar to the UAE's – hot, arid, desert-like and with not much rain – unless you're in the snow-capped Andes mountains where the very high altitude is perfect for planting vines. When the snow melts, a purposely-built irrigation system (permissible in Argentina) releases the exact amount of water required, reducing mildew and fungus. With less humidity here, the cool climate slows down the ripening process which keeps the acidity in the grapes and makes for very balanced wines. Most vineyards are naturally organic avoiding pesticides, whilst also bio-dynamic using sustainable resources.
Argentina has five main wine regions – Mendoza producing 75% of the country's output covering 160,000 hectares, therefore making it arguably the largest winemaking region in the world – San Juan (15%) – and the remainder from Salta, Uco Valley and Rio Negro. Its most famous grape is the Malbec, a Bordeaux blend or 'reject' as the French have been known to say.
With that over, we got down to tasting four wines. Sarah recommends using the 5 S technique, but plenty of variations abound:
See – scrutinise the colour of the wine against a white napkin.
Swirl – the increased air contact releases more aromas.
Smell – sniff the aromas and check whether the wine is oxidised.
Sip – slurp and roll the wine around your mouth.
Savour – assess the texture, body and balance – and ultimately enjoy!
Click here for a taster of the wines– FooDiva's fave, the Michel Torino sparkling wine – a blend of Chardonnay, Malbec and Pinot Noir – fresh, fruity and brimming with bubbles. Now FooDiva's a huge proponent of French champagne – never been a fan of sparkling wines or prosecco – but I would definitely order this gem over its French counterpart, especially with a very reasonable AED 395 price tag (for Dubai prices). So lush was it, I wished we'd been able to start the evening with this sparkler, whilst digesting all the theory – perhaps something for Asado to consider?
Good firm Stilton and a very ripe Brie de Meaux aside, the foodie highlight was a tapas dish of smoky Provoleta (an Argentine variant of Italian provolone cheese) barbequed on the charcoal asado with a sprinkling of oregano and garlic. In fact very similar to a more-ish Swiss raclette, ever so comforting. Look out for it on Asado's menu – traditionally eaten as a prelude to a meat main course.
Given Argentina has the highest beef consumption per capita in the world and is renowned for its asado (roasts) or churrasco (grills), I would have expected a slither or two of Chef Norberto's grass-fed beef, especially to accompany our smooth and fruity Malbec. As these wine appreciation classes are tailored (details below) and the team is so accommodating, I am sure you can request certain dishes in advance. I would have loved a few snippets on the appropriate choice of glass a la Mr Riedel – but then again FooDiva is a fuss-pot.
If you're looking to enhance your encyclopedic expertise on all things wine, whilst enjoying a fun-filled and wine-fuelled evening with like-minded friends, then Asado's wine appreciation classes are a 'bucket list' must.
Asado's sommelier, Sarah Belanger, hosts 1 ½ hour wine appreciation classes in the private dining room where guests can taste four different cellared wines from around the world, with an emphasis on South America, in particular Argentina, accompanied by cheese platters and canapés. AED 220 per person for a minimum of six people. Daily from 6pm onwards – prior reservation required. Asado is located at The Palace Hotel Old Town. T; +971 4 4287971. E; asado@thepalace-dubai.com 
Oh and the answer to my question at the beginning – is Italy – followed by France, Spain and then the US.  Did you get it right? Please be honest and perhaps FooDiva will organise an Italian wine tasting soon.
Salud! And if you're Argentinian enjoy your National Day celebrations!
FooDiva. x
Disclosure: FooDiva was a guest of Asado as part of a hosted event I organised for Fooderati Arabia, our UAE food blogging community. As always in line with FooDiva's editorial policy, the views expressed here are my opinion alone. For different renditions of our experience, make sure to read Life in the Food Lane and Ishita Unblogged.