Beach BBQ before it's too late! – brought to you by West 14th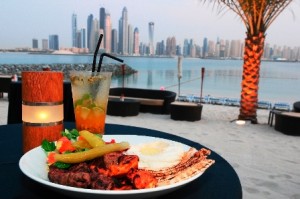 Dubai; Al fresco dining has been high on FooDiva's list of priorities – after all summer is fiercely knocking on our Dubai doorstep and you just know those humidity levels will start rising. It's now on your agenda too with this giveaway competition. West 14th, the Palm Jumeirah Dubai steakhouse aptly named after Brooklyn's butcher street, is giving away a couple of prizes for FooDiva Friends – beach barbeques and weekend breakfasts galore.
But firstly how does the BBQ fare? Rocking up on a Wednesday evening just as the sun sets, we meandered across throngs of people eating and chatting on the West 14th  terrace, and stumbled upon the hidden beach. Kicking off our beaded sandals (well mine at least), we plonked ourselves on an oversized rattan sofa. With our drinks orders placed (vino and spirits), off we scampered to peruse the barbeque. For AED 95, we piled our plates high with succulent lamb kofta, chicken and beef shish kebabs and juicy prawns, squeezing in a little fatoush salad, houmous and plenty of Arabic pitta bread. Whilst the choice is simple, the tender meats and fresh fish are grilled on the spot. And if you fancy a bit of a groove, a DJ's on hand playing chart topping 80s classics – personally I'd rather just recline on my sofa and chill to the beat.
Alternatively, if unlike FooDiva, you love your breakfasts, and so you should, West 14th serves up a weekend breakfast treat with the full-hog English breakfast or a light Swiss brekkie, plus the proverbial pastry basket and an exotic fruit platter.
So very importantly what's up for grabs?
FooDiva Friends in Dubai, we have two prizes to give away – a beach BBQ and a weekend English breakfast – each for four people. All you need to do is divulge your favourite barbequed dish. Leave your answer as a comment on this post. You can increase your chances of winning by also Liking and commenting on my Facebook page, and retweeting my tweet mentioning @foodivaworld.
The giveaway competition closes on Saturday 12th May when the clock strikes midnight, and we'll pick two winners randomly on Sunday 13th May. Remember to leave your email so we can notify you – you'll have 24 hours to claim your prize otherwise we'll have to select another winner.
And what's more, stay tuned for another competition next month – US Black Angus steak anyone?
Good luck!
A bientôt.
FooDiva. x
West 14th is located at the Oceana Beach Club on Dubai's Palm Jumeirah. T; +971 4 4477601. E; West14th.Oceana@moevenpick.com Open daily for breakfast, lunch and dinner. Licensed.
The beach BBQ runs every Wednesday from 7-10pm. AED 95 per person. The weekend breakfast is served every Friday and Saturday morning from 9-11am. Pastry basket – AED45, exotic fruit platter – AED 50 and English breakfast – AED 65.
Keep in touch by liking West 14th's Facebook page.