Alfie's by Dunhill, plus a damn good restaurant deal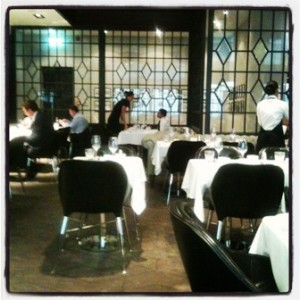 Dubai loves importing international restaurant brands, so it comes as no surprise to see Dunhill, the men's luxury lifestyle brand open its restaurant concept Alfie's at Jumeirah Emirates Towers Boulevard, following on from its Shanghai and Hong Kong locations, but interestingly not from its hometown London.
Smack bang right next to the new Dunhill boutique in the Boulevard – in fact in the same spot where the Agency bar used to sit before it moved up into the hotel – the interior of Alfie's lounge, bar and restaurant is unsurprisingly, a tad masculine. Retaining that classic, elegant British gentleman's club feel, but thanks to pearl grey and black leather soft furnishings, it's not at all stuffy and more of a brasserie. Expect to light up a cigar ensconced in an over-stuffed leather armchair, whilst taking in the tomes from the nearby bookshelf or perusing the menu. A little doorway leads into the Dunhill store.
British Chef de Cuisine, Christopher Driver, who Jumeirah poached from London's eponymous Hurlingham Club has produced a menu combining classic and contemporary British dishes. The starter highlight is without a doubt a smoked haddock hash topped with a poached organic egg and a dollop of wholegrain mustard – if you're an egg lover this dish is a must-try. Exquisitely simple. The game terrine served with pickled girolles, whilst flavoursome was deemed too 'heavy and chunky' by my guest, making it rather difficult for spreading on toast.
As for mains, Scots will be pleased to hear the traditional haggis dish impresses. Throw out any preconceptions of minced sheep's heart, liver and lungs and savour its nutty texture, with a side order of mashed turnips and potatoes, otherwise known as clapshot or 'neeps and tatties'. The pan-fried calf's liver was over cooked, despite the chef's recommendation of medium-rare, resulting in a slightly chewy texture.
The bread and butter pudding arrived resembling a deconstructed wobbly brick – tasted more like creme caramel and sadly without raisins. Tea lovers will delight in the rather rare-in-Dubai-find of smokey Lapsang Souchong black leaf tea.
An AED 110 business lunch menu with three courses each with three choices offers extremely good value and quite unusually the selection may appeal more than the a la carte – Eton Mess and baked banana dessert included. Be warned this menu changes daily! If you're after a lighter meal, Alfie's does provide a lounge menu of smaller, tapas-like dishes to accompany its 15-strong cocktail list. Try the addictive crispy lamb crackling with apple sauce. FooDiva reckons Alfie's has pioneered a new bar snack trend.
Service was a little hit and miss, more so because our waiter didn't appear to grasp our order, despite a number of repetitions resulting in for instance the arrival of three Bitter Lemons instead of two.
Without a doubt, Alfie's will remind you a tad of its neighbour The Ivy – perhaps it's that private gentleman's club feel and the harlequin motifs. Can two quite similar dining experiences compete in the same location, all-be-it one managed by the Jumeirah hotel chain, and the other by its sister restaurant division? Time will tell – but one thing's for sure it's worth another visit. In the meantime, here's to a 3 out of 5 FooDiva knife rating.
Alfie's by Dunhill is located on the ground floor of Jumeirah Emirates Towers Boulevard. T; 800 ALFIES. Open daily for lunch and dinner. Licensed. Business lunch menu aside, expect to pay AED 265 per head.
If you're thinking of trying out Alfie's or simply love a bargain, now is the time to do so. From the 23rd to the 29th May, Jumeirah is running Restaurant Week where a staggering 38 restaurants at Jumeirah Emirates Towers, Jumeirah Beach Hotel, Jumeirah Zabeel Saray, Madinat Jumeirah and Jumeirah at Etihad Towers Abu Dhabi are offering a three-course set menu from AED 120 to 180 per head for both lunch and dinner. Here's a handful that have been FooDiva reviewed.
Jumeirah Emirates Towers – The Rib Room (steakhouse).
Madinat Jumeirah – Honyaki (sushi), Pierchic (seafood) and Rivington Bar & Grill.
Jumeirah Zabeel Saray – Amala (North Indian), Lalezar (Turkish) and Voi (French-Vietnamese).
Have you dined at Alfie's? Do drop by with your feedback.
A bientôt.
FooDiva. x