The Farm…in Dubai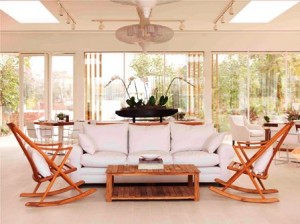 Dubai; When these photos landed in FooDiva's inbox, my heart started racing. The saying a picture tells a 1000 words is so true, and I couldn't get there quick enough. I'm waffling about The Farm, a new eatery in Dubailand's Al Barari 'wilderness' residential compound owned by the local Zaal family – just off Emirates Road.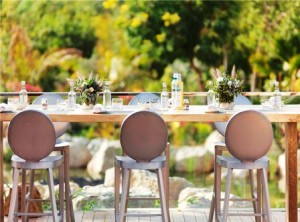 As you drive down the slip road, we could only but marvel at the lush greenery, gardens and nurseries enveloping us. Where had this gem of an oasis been hiding? The Farm's main building reminded FooDiva a little of Le Corbusier's architecture and the hotel The Commune by the Great Wall of China. But once inside its style is more Balinese – designed by Lesley Zaal of Etcetera Living.
With the weather so beautiful on Friday lunchtime, we picked a spot outside on the wooden deck suspended over a landscaped lake with freshwater streams, and surrounded by botanical gardens. Having oohed and aghed at the beauty and tranquility, first up are the i-pad menus. As FooDiva has just succumbed to the glorious i-pad trend, I quite like the novelty of flicking through the images of the dishes, but if you're not au fait with i-technology it can take a while to select as it did for my friend.
The international menu prides itself on sourcing local and organic produce where possible (Abu Dhabi's Mazaraa farm is one supplier), with lunch dishes divided into starters, soups and salads right through to bruschetta, pasta, curry, mains and of course desserts.
Rather disapppointingly, FooDiva's carrot and beetroot juice had been squeezed early that morning so really losing its essential vitamin content. Whilst I accept the waitress' explanation that the pulp needs removing after each juicing to stop clogging, making it quite a challenge for a la minute juices, The Farm only had a handful of occupied tables, so they should make an exception, or else buy a number of juicers.
A bread basket from the on-site bakery included some lovely buttery brioche. We made our own bruschetta selecting toasted sour dough bread, pesto, tomatoes and pumpkin seeds from a long menu of ingredients. Fresh, crunchy and beautifully more-ish. FooDiva's tomato tatin starter was skinned, stuffed with olive tapenade and goat cheese on a slither thin bed of filo pastry  – heaps of flavour, creative and really well executed. My friend's chicken breast skewers were lightly grilled and very tender to the point of falling off the bamboo stick – a slightly piquant satay sauce served on the side.
We'd not yet finished our starters when our mains arrived – far too quick – luckily they were salads. FooDiva's marinated shrimp salad – juicy, succulent prawns doused in strong, refreshing lemongrass and julienne strips of papaya and cucumber – I must admit I was unsure about ordering this dish but the marriage of ingredients worked perfectly, really bursting with flavour and texture. Good portion size too. Meanwhile, a couscous and rocca salad with shreds of grilled halloumi disappointed with the rubbery halloumi. Now as soon as this originally Cypriot sheep and goat's milk cheese is grilled (or fried) it should be served immediately whilst hot, otherwise you'll be chewing until there's no tomorrow.
For dessert, despite an enticing selection of baked delicacies and pastries, we settled for hugely generous scoops of mixed wild berry and lemon sorbet, and a coffee ice cream, whilst reclining on chaise longues. FooDiva's only quibble was the lemon – too tart and watery, I could have sworn it was lime. The juicy taste of the raspberries and blackberries is still lingering though.
The staff were very welcoming and knew their menu – so apart from my odd quibble above which with time and practice will iron itself out, well done on service. At AED 125 per head, good price point too. A booze license is underway but am not convinced it's really essential – it may just spoil the tranquility of this heavenly haven. The Farm is so incredibly chilled and relaxing, you really feel you have escaped the hustle and bustle of Dubai. I could have stayed all day…and night if one of the multi-million five-bedroom plus villas would have accommodated me :). I hear a boutique hotel may be in the offing – a similar feel to Desert Palm perhaps?
FooDiva's so glad Dubai's investing in novel, home-grown F&B concepts that really draw in the natural surroundings. I do urge you to visit. I certainly can't wait to return.
The Farm is located in the Al Barari residential development off Emirates Road in the royal enclave of Nad Al Sheba. Click here for directions. Open daily for breakfast, lunch and dinner from 7am to 11pm. Awaiting booze license. No need for advance reservations. T: +971 4 392 5660. AED 250 for two. A small range of organic products is available for sale.

Have you been? Any other gems hidden away in the UAE desert?
A bientôt.
FooDiva. x