Table 9 at Hilton Dubai Creek – worth booking a table?
Dubai; Two months into opening and with promising reviews, FooDiva was looking forward with sky-high expectations I should add, to a Table 9 restaurant reservation at Hilton Dubai Creek. Now incase you're not familiar, we're talking about Scott Price's and Nick Alvis' new home-grown restaurant brand replacing Gordon Ramsay's Verre (FooDiva interview here).
This hotel may be the 'wrong' side of the creek for new Dubai residents, but the reality is on a Thursday night, the journey only took twenty minutes door to door for a 9pm booking. Walking in, FooDiva expected the same bright and austere Verre ambiance, however yes the decor – the oh so traditional skirting tables and that dreaded carpet may not have changed much – but just the dimmed lighting and Mojo Gallery artwork go some way to creating a more quirky atmosphere. However the interior remains too severe, echoed by my interior journalist dining companion so a little investment (Hilton owners I hope you're reading this review) would make such a difference to first impressions.
We were given a round table with a head-on view of the video link showing live footage of the kitchen pass – supposedly a good table, but I would argue the corner round tables or banquettes are by far the more coveted and discreet. Now it's important you realise the restaurant knew FooDiva was reviewing. I used to work for Hilton, and Verre was a firm favourite, so I had every intention of making the booking under my friend's name, but the reality is, bar walking in with a wig and disguise a la New York Times' ex-restaurant critic Ruth Reichl, they would have recognised me anyhow.
The menu is divided into small (AED 70) and large (AED 100) 'tasting' dishes as Victoria, the bolshy in a good authoritative way, Lithuanian Maitre 'D explained. Interestingly, the prices have been reduced slightly since FooDiva interviewed Scott and Nick just before the opening. Four small, and a couple of large dishes would suffice for the pair of us, she continued – I'd call them sharing dishes in fact. The dishes are listed simply by ingredient – nice and easy to comprehend. Even though we'd made our selection, Ms V was keen to provide her input – after a few dilemmas not helped by allergies and dislikes, our order was placed.
First up was the amuse bouche presented as a seedling – the most sublime cauliflower cheese souffle FooDiva has ever tasted. Polished off in two heaped spoonfuls. I wanted more, like I do every time with Gary Rhodes' white tomato soup.
Our starters arrived two at a time; the chicken, foie gras, hibiscus, prune presented as a row of mini terrines – pretty as a picture. A superb melt-in-your mouth foie gras – with a sprinkling of cinnamon. And the lobster, vanilla, crackling, mango – FooDiva's not a huge fan of lobster yet this starter appealed for its unusual, but very workable combination of ingredients all sitting on a bed of mango carpaccio. Pork features prominently across many dishes – clearly a Scott and Nick favourite. Hands down our top dish of the evening. Next up, the pigs trotter, braised knuckle, cucumber marmalade, the second star dish scoring high points for originality. Clearly you have to love pork, but otherwise throw out any preconceptions of pigs trotter (the feet of a pig), and just relish the crunchy, chewy and crispy textures of this dish, whilst the tartare of diced cool cucumber adds a little sweetness. As for the scallops, thyme, onion, real ale – the scallops way too salty overpowering all the ingredients.
Onto our mains – the sea bass, winkle and oregano butter, pickled salsify – whilst we loved the scattering of winkles (teeny sea snails), the sea bass was a tad too overcooked and didn't fall off the fork as it should. Meanwhile the pork belly, sage dumpling, sprouts, pancetta failed to excite. The meat that comes with the fat of the belly was simply not juicy enough – but perhaps it was pork over-indulgence?
FooDiva's not very good with desserts at the end of a meal, unless I spot cheese on the menu, but not the case here. So I left the sweet choice to my friend who rated the chocolate, hazelnut, caramel (AED 50) as her favourite dish of the evening. I guess I missed out. Having said that, the Pick 'n Mix trolley is a winner – yes you heard right – waiter rocks up with a trolley full of glass jars jammed with home-made sweets from raspberry jellies and lemon drops to peanut brittle and vanilla fudge. He fills up pink candy striped paper bags for us gals (black for guys) to take home – complete with thank you card from Scott and Nick. But we couldn't wait, and stuffed ourselves there and then. Sugar overload. Just my cup of tea, with a cuppa of jasmine…
As for the service, FooDiva loves your attitude Ms V – long may it continue – but it's a shame it's not reflected on your waiting staff though. I wish I had counted how many times the waiters asked us 'is everything OK?' , 'are you enjoying it? – half a dozen times wouldn't be an understatement – to the point we felt awkward and were talking in hushed voices. I realise it's because they were concerned of my review, but experienced staff should feel at ease with diners. Oh well hopefully with time and training.
The restaurant was probably half full on a Thursday evening, and I gather it's a January post-festive season blip – but it does need people to create a buzz and rustle up the formality a little. The dishes are reasonably priced, but to be honest you only need one small plate (starter) and one large (main) each…and FooDiva has a huge appetite – otherwise with wine it becomes an expensive evening. With three glasses of prosecco and rose each (a good selection of vino by the glass), a couple of teas and water, the bill totaled AED 455 per head.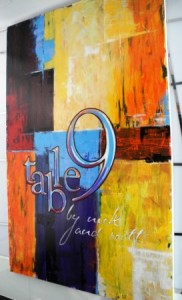 Whilst only a few dishes truly impressed us, I do love Scott and Nick's creative use and marriage of ingredients – but the boys I feel are still experimenting and some of the dishes need fine tuning. You have to admire their tenacity for going it alone sans Gordon Ramsay. Table 9 is one of only a handful of home-grown restaurant brands in Dubai, so it deserves our support, but we need to give the team time to develop their concept and that's not just food, but service, interior and atmosphere – all equally important in defining the dining out experience. In the meantime, here's to a three out of five FooDiva knife rating.
If you've dined at Table 9, would love to hear your feedback – or drop in with a comment anyway!
Table 9 is located at Hilton Dubai Creek. Open Sunday to Friday for dinner only. Licensed. T; +971 4 2271111.
A bientôt.
FooDiva. x