New year, new Gourmet, plus a Seville travel feature
Dubai; Now onto my monthly update of all things Gourmet. The January issue is out on the shelves, and aside from my expert column, here's a flavour of what you can tuck into this month: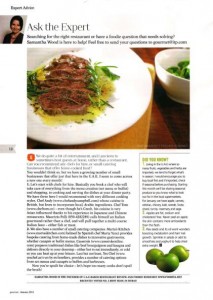 Furthermore, check out this week's Ahlan for my Seville VIP travel feature or click here.
Before I sign off, I'd like to leave you with a post from fellow food blogger extraordinaire, My Custard Pie, on F&B trends in the UAE for 2012 – makes compelling reading :).
As always, if you have a foodie dilemma, drop me a line. Or else I'd simply love your feedback.
Happy reading!
A bientôt. FooDiva. x