Unwrapping festive Gourmet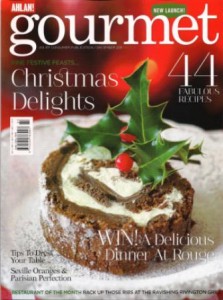 Dubai; Another month brimming with feasts, and a new foodie edition! Gourmet's December festive magazine is now out and about. Aside from FooDiva's expert column and news bites from across the U.A.E, grab a cuppa and flick through:
Restaurant of the Month – Dubai's highly popular Rivington Grill.
New Restaurant of the Month – the new Japanese and Chinese sensation, Rouge at Rocco Forte Hotel in Abu Dhabi. Plus a competition to win dinner for six!
Top Chef – Bice Mare's Francesco Gurracino shares his favourite dish from the teeny tiny Italian island of Ischia.
And that's just a snapshot! Free with the current Ahlan! – and from Thursday onwards goes on sale toute seule. If you have a foodie dilemma, drop us a line. Or else we'd simply love your feedback.
Enjoy reading!
A bientôt.
FooDiva. x