A 14 Michelin star weekend in Vienna
Vienna; A PR calls FooDiva a few weeks ago, "We'd like to fly you to Vienna on an international press trip for the Stars, Food & Art Michelin-chef gala dinner at Sofitel. Six chefs with a total of 14* Michelin stars. Weekend of December 1st. Would you like to go?"
Would I like to go?! Quickly checking my diary…other than missing the U.A.E's 40th National Day celebrations (U.A.E, I do love you, promise I'll make it up to you over the next 40 inshallah), I had zero on. "Yes, yes, yes please," I exclaimed swiftly before he changed his mind. So that's how a foodie blogger landed in Vienna with veteran journos Dave Reeder of BBC Good Food Middle East and Ibrahim Toutanji from Ara magazine. Now in case you're wondering, our trio was selected for this wow Viennese experience as the gala dinner is coming to Dubai in April (3rd to be precise) – hence the advanced publicity drive.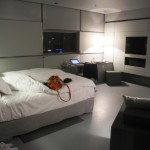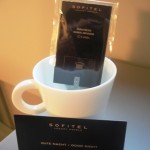 More on that next year (agh that's less than a month away!), but FooDiva wanted to first share a foodie snapshot of my Viennese weekend. It's so beautifully Christmassy, I am hoping you may just decide to spend the festive season there. Throw out any preconceptions of the French Accor-run Sofitel brand, the one-year old Sofitel Vienna Stephandsom is a sleek and sexy glass, steel and concrete stunner. Designed by Frenchman, Jean Nouvel, he is also the architect behind the controversial Louvre Abu Dhabi. Guest rooms are either all-white, black or grey – the latter FooDiva's overlooking the canal leading onto the Danube. All grey may not sound appealing especially with no sign of any bright art to draw the eye in – but wait for this…sliding partitions allow you to select the size of your window. Quirky touch, as was the relaxing verbena tea placed on my bedside table at turn-down service.
Talking of windows, suspended over Vienna on the 18th floor sits Le Loft with ten-metre high floor-to-ceiling windows wrapping round the restaurant as you gaze across the gothic Stephandsom cathedral. Or look upwards to the illuminated, animated canvas stretching across the ceiling; its bright colours so mesmerising. Taking on French chef Antoine Westermann who earned three Michelin stars for his Strasbourg restaurant Le Buerehiesel, only to pass the kitchen reigns to his son Eric so that he can open new eateries of his own in Paris, and consult on others in Lisbon, Madeira, Washington and this beauty.
In FooDiva's interview with Antoine, he explains, "I had three stars for 16 years, and one moment in my life I said it's nice, but I was 45 and I could go on my whole life having three stars in Strasbourg, getting up in the morning and going to sleep with nothing changing. Cuisine should also be free, and so I was thinking of changing my style to be simpler, less expensive with a younger atmosphere. When you have three stars, it's very strict. At the same moment, I changed my life, left Strasbourg and started a new life in Paris. So I went to Michelin and said, next year please forget me. First of all, they said you cannot decide, we decide, we are Michelin. Yes you are right I said, but if I say next year I am making pizza it will not be nice for you to have a three-star pizza! We fought a little together, but in the end I left. What I can say, it's another life after the three stars. I am really, really happy without having to think about Michelin. My priority is making my customers happy, finding the right produce and offering a great price." Considering many chefs strive all their lives to earn a Michelin or two, and in the odd case have even been known to take their own life for fear of losing a star, that's pretty admirable.
Antoine's cuisine at Le Loft blends French, inspired by his childhood memories of Alsace, with Austrian flavours – and 80% of produce is sourced locally. Expect to dine on frogs legs and goose foie gras. He was in situ for our visit and the gala dinner of course, but makes sure to fly in at least four times a year. His ex-Chef de Partie at Le Buerehiesel and protegee, Raphael Dworak helms the kitchen every day for breakfast, lunch and dinner. "Am always on the telephone with Raphael. What's important is Raphael thinks like I think, he cooks like I cook. He knows me really well. I told Accor if you want me to be the chef and shape the menu, then give me confidence and I want to hire Raphael. I create the cuisine, and Raphael executes it."
Fine dining aside, Vienna is renowned for its legendary Wiener Schnitzel, its origin is in fact Milan (hence the Cotoletta alla Milanese), all thanks to the tentacles of the Austrian-Hungarian empire. Traditionally escalopes of veal (but nowadays you will also find pork and chicken options), coated in a breadcrumb, egg and flour paste, and shallow fried. Growing up, it was a firm favourite of my sister and I, so I always look out for it on my European jaunts. Try it at the historical Cafe Imperial, in Starwood's Luxury Collection Hotel Imperial, originally built as a royal palace in 1863. Here (pictured above left) it's served with boiled potatoes sprinkled with parsley, lemon wedges and a traditional Viennese potato salad. Tender, ever so thinly sliced veal (two escalopes I should add!) and thanks to the limited oil, not at all greasy. You can almost convince yourself it's healthy!
Alternatively for a modern setting, the eatery Plachuttas Gasthaus zur Oper specialises in this very same dish. Click here for their Wiener Schnitzel recipe – very easy to concoct. Figlmuller is another establishment with constant queues for the thinnest and largest schnitzel in town. On FooDiva's hunt for all things schnitzel, I was recommended Gasthaus Poschl (Weighburggasse 17, T; +43 1 5135288). Operated by an actor, the thespian feel is contagious; casual, arty and quaint with moreish home-cooked food. Schnitzel aside, go for the deep fried chicken liver starter, and the pork risotto – both served with lambs lettuce salad. It's a small, busy joint so book ahead.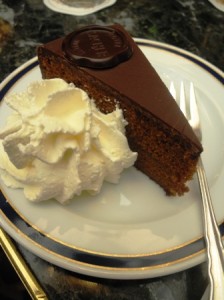 No trip to Vienna would be complete without a slither of its famous sacher torte (more on FooDiva's fascination with this divine creation here). You'll find this cake in practically every cafe around town, as well as the airport, but the Cafe Sacher, adjoining the Hotel Sacher is where the original masterpiece was created, with the recipe remaining locked in a vault to this day. Having said that, here's a recipe, but not the original apparently! Worth noting the smaller, bite-size portions (almost cup cake size) are actually a tad more moist than the original version. Just depends what tickles your fancy. If you're after leaf teas, then another Viennese institution Demel cafe makes the perfect brew.
Leave some energy for the 1.5km Naschmarkt, a daily foodie market complete with stalls and eateries right next to the stunning Secession building. The pictorial tour here shows you a glimpse of the fare on offer. With the hive of activity that accompanies most markets of this kind (Barcelona's springs to mind), FooDiva could have spent the whole day and more here, but the nearby Christmas market called. Now that's one reason you should visit Vienna right now to take in not just one, but a staggering 16 markets; one round every corner literally. With a mug of Gluhwein or dark hot chocolate in hand, it's arts and crafts galore.
En route back to the hotel, we stopped off for a glass of vino (Austrian red is pretty decent) whilst interviewing the owner and chef duo behind Kulinarium 7, a wine bar-cum-restaurant with an incredible cellar housing thousands of mainly Austrian and French bottles. Definitely on FooDiva's bucket list for my next visit, as is two-Michelin star Steirereck, no. 22 on the San Pellegrino World's 50 Best Restaurants. Oh and would it be too tacky to return for a classic wiener sausage (aka hot dog) and apple strudel?
Have you visited Vienna? Any other local, insider tips for FooDiva followers?
Emirates operates daily direct flights to Vienna in under six hours. Sofitel Vienna Stephandsom's room rates start at EUR420 for a classic double room. I've never experienced a tourist board as helpful as Vienna's.

Stay tuned for a post on the Stars, Food & Art gala dinner.
A bientôt.
FooDiva. x
* Initially the gala dinner was publicised as 13 stars, but one of the chefs Thomas Bühner was awarded his third Michelin star for his restaurant La Vie in Germany's Osnabrück  just before the event, bringing the total stars to 14.