Locally made Italian mozzarella and burrata per favore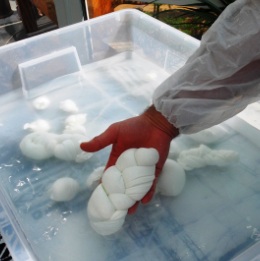 Dubai; We now have true Italian mozzarella made locally right here on our U.A.E doorstep. You don't believe FooDiva do you, well neither did I until my tasting at Dubai Garden Centre's weekly Ripe market.
Produced by Italian Dairy Products, an Italian family business based in Sharjah and helmed by the bubbly Maria Luisa Panzica La Manna, the mozzarella uses pasteurised cow's milk from local U.A.E farms.
Now this is not to be confused with Buffalo mozzarella, a protected designation of origin product made from water buffalo milk in Lazio and Campania in Italy. But oh my it is just as good. The cheesemaker kneads it with his hands until it's a smooth, shiny paste, cutting off a strand (mozzare translates to cut off), which he then plaits to form the mozzarella as pictured here.
Maria also sells ricotta, and FooDiva's fave, burrata whose outer shell is solid mozzarella, whilst the inside contains both mozzarella and wait for this, fresh cream which when sliced open, oozes out buttery soft cheese. Thanks to the likes of La Petite Maison dishing it up, burrata has become quite trendy in Dubai – mind you Medzo also serves up an equally as scrumptious burrata starter.
So with burrata in hand (AED 50 for 500g), a handful of local and organic cherry tomatoes and rocket from the Ripe market, FooDiva rushed home to make some lunch. Combine with a drizzle of extra virgin olive oil (Gourmet Point's French La Tourangelle range also available at Ripe), some fresh basil leaves and black pepper – bed it all on crusty ciabatta or baguette, and you're in cheese heaven. Nothing beats locally sourced produce.
All of Maria's cheeses are preservative-free, yet will last for eight days in the fridge. There must be something in the milk!
Do you love the likes of mozzarella and burrata? What's your favourite cheese?
Italian Dairy Products has a stall at the weekly Saturday morning Ripe market (ex-Bumble Box) at Dubai Garden Centre on the Sheikh Zayed. Otherwise you can purchase direct. E; sales@italiandairyproducts.com T; +971 6 5269042.
Oh and as an aside, Prime Gourmet is now barbequing its home-made lamb and beef sausages at the market, so that's breakfast sorted.
A bientôt.
FooDiva. x