Chef Mirko races into Abu Dhabi's Yas Viceroy
Abu Dhabi; Abu Dhabi's Formula One may be gearing up for its final lap tomorrow, but it's worth racing to Yas Island this coming week to dine at Yas Viceroy's Italian ristorante Amici. Milanese-born guest chef Mirko Paderno has brought his Beverly Hills culinary repertoire to Abu Dhabi in the form of a specially created a la carte menu – no set menu thank goodness. With an extensive menu comprising of antipasti, primi, secondi, pizzette and dolci, each dish is priced individually so choose as little or as many as you like.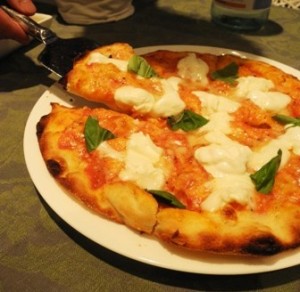 Thanks to a media tasting, here's FooDiva's verdict.* Friend and I skipped the proverbial bread basket and opted to indulge in pizzette – imagine a wood-fired pizza, but one where the base is then deep fried in olive oil. Almost resembles a crispy foccacia. How unhealthily moreish could we get. We shared the Napolitana with tomato sauce, burrata cheese (mozzarella oozing with fresh cream) and basil leaves. Worth the drive alone.
Chef Mirko excelled in all three of our antipasti dishes; Crespella D'Anatra – duck crepes on a Parmigianno fondue base, Tartare di Tonno – sashimi-grade tuna tartare on crispy ricecakes with a dollop of spicy sauce, Tortino Di Cavolfiore – cauliflower souffle with black winter truffle fondue.
I'll be honest we were disappointed with our choice of primi piatti – these tend to be the likes of freshly made pasta, gnocchi and risotto. My tagliolini pasta was too overcooked and the cacio (pecorino) cheese sauce thick and clumpy. On the other hand, my friend's paccheri (pillow-shaped) pasta was way too al dente to the point of being chewy, but the fava bean and langostine sauce punched in a good dose of flavour.
Our secondi mains; Costino D'Agnello Al Forno – four generous lamb chops with artichoke and fingerling potatoes were roasted beautifully blue as requested, and the Rombo Arrosto – turbo fillet with Taggiasca olives and candied cherry tomatoes, whilst a little salty was flaky and tender.
FooDiva had simply no room for the dolci dessert, but my friend vouched for the Amaretto, espresso and white chocolate infused tiramisu.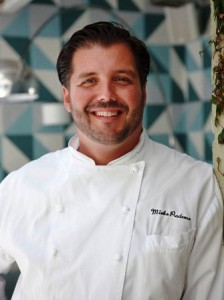 All digested whilst overlooking the Yas Marina racing circuit in all its sparkly nightime glory. FooDiva's dined at pretty much most of this hotel's restaurants to mediocre reviews, so am delighted the F&B is under revamp thanks to the new Viceroy management. Let's hope the calm, collected and charming Chef Mirko leaves his imprint on the island.
Have you dined on Yas Island? Any stand-out experiences to report on?
A bientôt.
FooDiva. x
Amici is located at Yas Viceroy on Yas Island. Chef Mirko is on the island until November 17th this week. Open daily for lunch and dinner. Licensed. Starting prices; pizzette, antipasti and primi from AED 70, secondi from AED 155 and dolci from AED 38. T; +971 2 6560600.
* I was a guest of Yas Viceroy and hence this post is not an official review as per FooDiva's editorial policy.