What do 1762, a Dubai deli and a 'roast' beef Yorkshire pud wrap have in common?
Dubai; For starters, the sandwich was born in 1762. Credit to the Earl of Sandwich who asked for his roast beef to be served between two slices of bread to prevent his hands from getting all greasy during his game of cards. Or perhaps he was just hiding the odd ace or two? Either way, he created the first record of the sandwich, and the team behind Appetite's fresh crunchy salads and juicy wraps (sold at Spinneys and numerous coffee joints) has opened 1762 The Gourmet Deli Co. at DIFC.
With a queue, not far off a mile, of banker-types on a Thursday lunchtime, you order your meal, pay, take a pew, stool or chair, and it's served, pretty pronto. To make the queueing time less painful, one of the owners, FooDiva's presuming, was pouring out home-made pink lemonade as tasters; so refreshing I ordered one with our meal.
The decor is British with a New York twist FooDiva feels, reflected in the menu, mind you with a good dose of Arabic ingredients thrown in. My lunch companion suggested this joint, because she knew FooDiva would want to try…wait for this a 'traditional homecooked roast beef Yorkshire pud wrap'. Oh my was she right. FooDiva's a sucker and supporter of most traditional British food, as I feel the country gets an unfair wrap on its cuisine. Put a Yorkshire pudding anywhere and I will pick that dish off the menu; Rivington Grill's used to feature a fabulous roast beef salad served in a giant Yorkshire pud. Bring it back pretty please.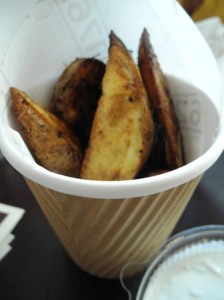 The huge wrap is served cut into half; I expected the Yorkshire pud to be heavy, but infact was incredibly light and fluffy like a good one should be. The generous slices of beef were more salt beef, rather than roast, but with plenty of lettuce folded in. Having said that, FooDiva popped in for an impromptu second visit, and peering through the glass counter I was pretty sure I spotted roast beef (and rare too!). You get a choice of horseradish or Coleman's mustard and a teeny pot of gravy; warm by the way, as was the wrap. FooDiva topped it up with rosemary, garlic and olive oil 'tatties' otherwise known as potatoes – in this case wedges – with a pot of labneh and spring onion dip. Fresh, with the crispy skin intact and all mushy inside.
The Arabic chicken mousakhan on flatbread with a creamy yoghurt pot also makes for an excellent choice echoed by my first lunch guest and also my second, fellow foodie blogger extraordinaire, I Live In A Frying Pan. As for the duck wrap – complete with slithers of spring onions and cucumbers, plus spinach, plum and hoisin sauce…well if at all possible, I would go as far to say thanks to the flaky, crispy wrap and crunchily fresh ingredients, it's even more moreish than Royal China's aromatic duck with pancakes! Just depends what flavours tickle your fancy.
I spied freshly baked scones, jam and cream (clotted I hope?) and a red velvet cake so am definitely returning for afternoon tea. If you're not a fan of carbs, the colourful salads certainly looked appealing. For the Brits out there, you'll also find pies and pasties, Cornish included.
Dubai was in dire need of a super sandwich deli, so home-grown 1762, we're glad you're here. I hope you will consider expanding to other districts even though I see you're also in Jebel Ali; remember us non-banker types also crave sandwiches. In the meantime, FooDiva will happily pop in when in the vicinity, as should you.
Do you have a good local sandwich joint FooDiva may not have heard of? What's your preferred sandwich filling?
1762 at DIFC (Dubai International Financial Centre). [Rumour has it during the financial crisis, the nickname was Dubai International Food Court – a bit of useless trivia but we love]. T: 800 1762. Open weekdays only (8am to 6pm). Lunch for two with soft drinks on average AED 100.

A bientôt.
FooDiva. x