A slice of nostalgia for Canadians, but is Tim Hortons really all it's cracked up to be?
Dubai; With all the buzz surrounding the opening of Canadian coffee chain Tim Hortons – you just need to read Tahira Yaqoob's feature in The National for a taster – we had to get cracking on a FooDiva review. Slight problem though, FooDiva doesn't drink coffee. So to the rescue comes FooDiva follower, discerning foodie and ex-journalist, Sophia Puyn to share a guest review.  Here you have it…
Unlike Canadians, I wasn't familiar with the iconic Tim Hortons – a veritable institution in Canada – but for the uninitiated, Tim Hortons is Canada's largest quick-serve coffee and doughnut chain, with over 3,600 locations across Canada and the US. Originally set up by a famous Canadian hockey player (Tim Horton) who played 22 seasons in the National Hockey League, the humble coffee shop has a devoted following amongst Canadians. After learning that the local franchise, Apparel Group has announced plans to open 120 branches in the GCC within the next five years, my hopes were high.
As you walk into Tim Hortons, you're essentially joining the queue to order. As two people were ahead of me, a staff member at the cash register beckoned me over to place my order directly with him. I ordered myself two coffees (a weak decaf, with cream; and an extra hot skim milk latte). Big mistake. The server wasn't sure how to handle an order that veered from the norm (and which obviously wasn't on the touchpad screen), scrambling around for something – eventually settling on a napkin – on which to write my order.
He then asked me whether I "usually go to Costas or Starbucks, with that kind of order", which I felt was more a reflection on his lack of experience in a coffee shop in this part of the world than my admittedly fussy coffee tastes. Surely I'm not his first customer in the first fortnight of opening to order something out of the norm, and surely my order wasn't the worst he could have faced? He then proceeded to ask me how they should make a weak filter coffee, which wasn't very reassuring.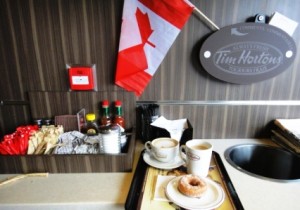 Anyway, I digress; I wanted to taste the famous Tim Horton pastries! In order to determine how they compared to those from better-known doughnut establishments like Dunkin Donuts and Krispy Kreme, I asked for a cinnamon doughnut (similar to a chef asking for a piece of fish or lemon tart in a competitor's restaurant). I was told that there were no cinnamon doughnuts but that I should order a sugar-glazed doughnut with sour cream. Yes, you read that correctly: a sugar-glazed doughnut with sour cream, which is possibly the worst combination of tastes I can imagine. As the sign above the counter was too small to easily read and there were other people standing in front of the doughnut display, I asked whether they had any plain sugar doughnuts, by which time the server was getting a little anxious and said, "I don't know if we have sugar ones. Go have a look. In the meantime, I'll just serve the gentleman behind you."
Finally, AED 47 dirhams later, and armed with my (plain sugar) doughnut, coffees and two boxes of Timbits – the bite-sized pieces of doughnut for which Tim Hortons is famous – I looked around to find a table. The dine-in area was spotless but basic – functional rather than aesthetic. The food packaging wasn't much more appealing. The Timbits packaging was reminiscent of a McDonalds Happy Meal, and I half expected to pull a plastic toy out with my sweet treat. The Timbits (Dutchie flavour, which means sugar-coated dough 'filled with raisins' – I found two raisins in a total of 10 Timbits) were overly sweet and disappointing. The sugar doughnut was marginally better, although certainly no better than doughnuts offered elsewhere.
In summary, albeit a little overwhelmed by what are common requests in Dubai, the staff at Tim Hortons are friendly and the coffee is decent enough. However, unless you're Canadian, I can't see the pastries being any more – or even as – appealing than those offered elsewhere. By no means is Tim Hortons a destination coffee shop. It's a cheaper, more basic version of Starbucks – which, incidentally, is right next door. The location of Tim Hortons on Sheikh Zayed Road is a shrewd choice, being within walking distance of the Canadian University of Dubai, and I suspect a large percentage of its repeat clientele will be pounding the pavement between those two Canadian institutions. Which one is more revered in the eyes of Canadians, however, remains unclear.
So tell us, what's your experience of Tim Hortons here in Dubai? And Canadian FooDiva Friends, how does it compare to back home?
Tim Hortons is located on the Sheikh Zayed on the same strip as Shangri La Dubai. Open daily from 6am to 2am.