A Chinese fine dining experience at Hukama, plus a competition – brought to you by The Address Downtown Dubai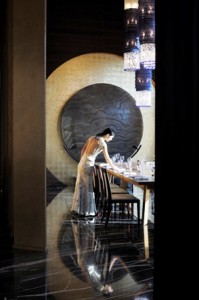 Dubai; You asked for more competitions FooDiva Friends, and to show we're all ears, now's your opportunity to win a three course dinner for two at Hukama, the Chinese fine dining restaurant at The Address Downtown Dubai. But first, what's Hukama all about?
Well the menu's mostly Cantonese; the more internationally accepted cuisine of China. Starting off with dim sum, FooDiva's highlight was the chicken char siew pau; those barbequed bready buns of deliciousness. Follow with the deep fried king prawns appetiser drooling with wasabi sauce and a drizzle of mango salsa; even my dining companion who's not a fan of wasabi relished this dish.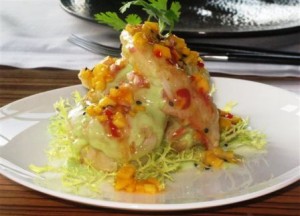 No Chinese for FooDiva is complete without duck and pancakes; Hukama's Peking duck is a succulent, tender roast served diced with the crispy skin intact. Thankfully here's a restaurant that provides enough pancakes (warm and fresh by the way) to wipe your plate clean of plump duck – accompanied by the proverbial shredded scallions, sliced cucumber and plum sauce.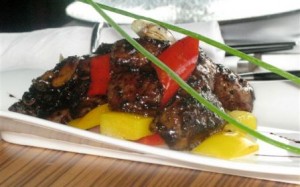 Like with most Chinese – meals that is, our bellies were almost bursting, but our mains still called. The wok-fried black pepper beef; a tender diced fillet with the spicy, red chilli, garlic (and black pepper) infused sauce was impeccably palatable. A fried soft shell crab with Sichuan pepper, whilst soft and crumbly would make a better starter option. We asked for pak choy, lightly wok-fried, even though it wasn't on the menu and they dished it up perfectly al dente, along with bowls of steamed rice.
Quite how my fit fellow diner managed to eat two whole desserts all by himself I don't quite know; a mango ginger crème brulee with iced lemon basil, and a chilled mango and pomelo soup with berries and sago pearls – all I could do, was digest with freshly brewed jasmine blossom tea.
Whilst the interior is a tad too austere, not helped by the lack of music – the Chinese waiters and waitresses all dressed in beautiful traditional embroidered satin outfits made up for this with friendly, accommodating service, even on a busy weekend.
Before you leave, catch a glimpse of Burj Khalifa on the outdoor terrace, whilst taking in Bocelli and the magical fountains. Love a hotel with good night cap options so head down to Calabar or up to Neos to end your soiree.
And now for our giveaway, a three-course dinner for two at Hukama including soft beverages. FooDiva Friends in Dubai, all you need to do is tell us your favourite Chinese dish and why. Leave your answer as a comment on this post. You can increase your chances of winning by also Liking and commenting on my Facebook page, and retweeting my tweet mentioning @foodivaworld.
The competition closes on Sunday, October 23rd when the clock strikes midnight, and we'll pick one winner randomly out of a Chinese teapot on October 24th. Remember to leave your email so we can notify you – you'll have 24 hours to claim your prize otherwise we'll just have to select another winner.
Hukama at The Address Downtown Dubai (the tall gleaming white skyscraper overlooking Dubai's magical fountains). T; +971 4 8883444 E; dine@theaddress.com Open daily for dinner, plus Yum Cha brunch on a Friday. Licensed. Dinner for two including alcoholic beverages AED 700.
Good luck!
A bientôt.
FooDiva. x