What happens when you can't get a reservation at the world's number one restaurant?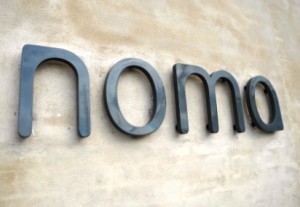 Copenhagen; FooDiva's talking Noma in Copenhagen, voted number one for two consecutive years in the annual San Pellegrino World's 50 Best Restaurants, the Oscars of the restaurant industry. I tried very unsuccessfully to get a booking a couple of months ago as soon as my recent mini break to the Danish capital was confirmed, but no such luck. And I don't pull FooDiva strings, not that Noma would have succumbed.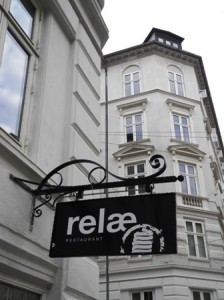 But if you can't dine at Noma, don't despair, Copenhagen is a foodie paradise. So first in comes Relae, a year old restaurant set up by two former team members of Noma. I did manage to get a booking, but over a three day period, the only available slot was Friday 6.30pm. I nabbed it.
Smack bang in Copenhagen's vintage fashion and antique furniture district Norrebro, you can't miss Relae's corner location. Décor is simple to the point of canteen style utilitarian. And you gotta love European summers with all those long days and natural light streaming in. The waiter drew open a mini drawer attached to my table housing the menu, cutlery (stark stainless steel I should add) and paper napkins. Some might say that's taking the utilitarian theme too far, but FooDiva likes.
The menu is set as you can see here (and changed daily), with a separate vegetarian selection – plus accompanying wines by the glass should you wish. Relae prides itself (like the very experienced Noma) on so-called Nordic cuisine, experimenting with cooking methods to change the texture and appearance, but not the taste and flavour of ingredients. It's all about bringing a little science into the kitchen. Now unlike Noma, Relae does not source all products within the wider Scandinavian region; as the waiter-cum-sommelier pointed out, if they find a better product in France they will import.
I loved the use of traditional, unusual ingredients, like lovage leaves; in taste quite similar to celery – and samphire; an asparagus looking plant. As you can see here, five out of six dishes have indeed been reconstructed, without compromising on that all-important taste and flavour, and every single one is now vividly and fondly etched into my palate. To give you an example, am not a huge fan of coconut, yet by combining fresh chunks and shavings of this ingredient, with succulent blueberries and black pepper ice cream (a Gordon Ramsay favourite), this dessert suddenly became delectable. So much so, I would pick it off a menu any day. The Swedish goats cheese is the only dish presented as one would expect; when spooned on the freshly baked soda dough bread, you'd be hard pushed not to ask for seconds.
The wines are sourced from French biodynamic vineyards. The sparkling wine at DKR 85 (AED 60) per flute is excellent and not too dry, and given Relae doesn't sell champagne, it had better be. Service was seriously outstanding, with the waiters explaining every dish in minute detail, whilst also responding knowledgeably to questions. All six courses including the snack as Relae likes to call it, and the cheese, both of which are optional extras, come to a teeny grand total of DKR 460 (AED 327); exceptionally good value, n'est-ce pas? Expect to double if you are wining and dining.
If your palate is up for something a tad more Danish, yet still innovative, then Paustian is worth a booking (this time round FooDiva managed a Saturday 8pm reservation). Dane chef couple Bo and Lisbeth Jacobsen helm this restaurant in Copenhagen's docklands, adjoined to an imposing gallery, designed by Danish architect Jorn Utzon of Sydney Opera House fame. Here the menu is a la carte; concise yet with enough choice. FooDiva opted for Dungenes crab bouillon with crab toast corn and pickling dill, roast pork neck with cider grazed apple and celeriac, gravy and marinated potatoes and a selection of three Danish cheeses.
Now even though Paustian may subscribe to Danish cuisine, the menu is hugely Brit influenced and I reckon that's in part due to Chef Bo's cooking time in Newcastle – you can even detect a bit of the Geordie accent as he pondered over mine and every other table. Love a chef that takes the time to talk to diners, whilst offering an extra tipple or two. Three courses DKR 405 (AED 288) – minus wine and tea. Still good value for one of the city's top restaurants, but you can see how favourably Relae compares.
When in Denmark, gotta try a smorrebrod; an open dark rye bread sandwich. The Royal Copenhagen café (of Danish blue porcelain fame) specialises in 'smushi', i.e. sushi sized smorrebrods. You can order a trio seen here; my fave, the Parisian surprise as they call it; a burger topped with egg. The Danish speciality of marinated herring with dollops of curry cream was not quite FooDiva's cup of tea, but the tea selection most certainly was.
During my weekend sojourn, Copenhagen played host to Nordic Taste; an outdoor gourmet festival, a little like Taste of Dubai, just not as polished. Well it wasn't Dubai after all. With 26 restaurants each showcasing a signature dish, all be it pre-prepared not cooked on the spot, two stood out; Cofoco and Kodbyens Fiskebaren are on FooDiva's wish list for next time…provided I can get a booking.
FooDiva's always on the look out for good leaf tea, and A.C Perch's Thehandel deserves a mention. With the quaint shop dating back to 1835 and a royal warranty, you'll find every tea under the sun, including a difficult-to-source selection of white Nepalese and Chinese teas – you can even order online. And just above sits a beautiful tea room for that quintessential English afternoon cream tea, all-be-it in the heart of Copenhagen.
So has FooDiva tempted you with a gastronomic tour of Copenhagen?
Well Emirates now has daily direct flights from Dubai. Weekend break aside, you can extend your Copenhagen jaunt and connect with most European countries as I did with Iceland. I stayed at the Scandic Front, a design hotel with a harbour view right next to the Danish Playhouse, and a few minutes walk from Nyhavn canal. Tip; www.booking.com will get you a better rate. Just remember to reserve restaurants well in advance.
FooDiva will most certainly return with a Noma reservation. For now, I will console myself with the photos I took of its exterior (it's closed on Sunday as is practically every restaurant in Copenhagen)…and the memorable meals elsewhere.
Have you dined in Copenhagen? Any other restaurants worth noting?
A bientôt.
FooDiva. x
Note; all restaurant websites are embedded as links in this article.