Ever heard of a salt sommelier?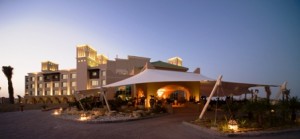 Abu Dhabi; Have you ever heard of a salt sommelier? Well FooDiva hadn't until an email landed in my inbox one day. I can smell a good publicity stunt from sand dunes afar, but nevertheless I was intrigued. So the nature reserve that makes up Sir Bani Yas Island off the coast of Abu Dhabi houses the Thai Desert Islands Anantara resort, as well as a certain individual by the name of Dams Dato-On, the in-house 'Salt Guru'.
And so FooDiva found herself dining at the resort's beachfront seafood restaurant, Samak, last weekend. With a trolley full of salts, Dams explains the restaurant's concept of pairing the right salt with each dish to bring out the flavour of ingredients, both during the cooking process and after as a sprinkling. All seven salts served are natural and unrefined, mostly from sea water, plus one from a Peruvian spring. Bizarrely, the island has its very own salt dome, a vertical cylinder of salt created by the evaporation of salt water, but for now it's simply a sightseeing stop.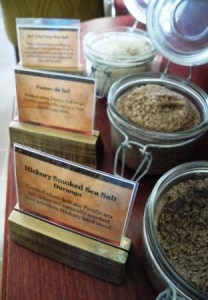 We are all preached to limit our salt intake to avoid rising blood pressure, but most chefs, Samak's included, see salt as an essential seasoning ingredient. Given FooDiva dines out so much, at home I rarely cook with salt. It's all about moderation.
At Samak you can select your seafood from a display, choose your cooking method and accompanying sauce. Good news for supporters of sustainable fishing, Samak's market display brought up a local two bar sea bream or 'faskar' in Arabic which is aplenty in U.A.E waters. More on fish sustainability in a forthcoming post. All fish is purchased from local fish markets in neighbouring Ruwais and Abu Dhabi.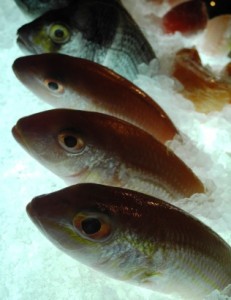 From the dishes we ordered, the sea bream, filleted and steamed Thai-style with a chilli, lime and lemongrass sauce stood out. Served with a simple portion of steamed rice and veggies. The fish alone was so silky and flaky, just bursting with flavour, but oh my when I drizzled the piquant and zesty sauce (always ask for sauce on the side), I couldn't finish my plate quick enough. Simply heavenly. The flavours reminded me of The Ivy's signature Thai-baked sea bass. Paired with 'Sel Gris Gray'; a coarse and organic French sea salt that probably did go some way to enhancing those sublime flavours, but am pretty sure the Thai sauce could have done it alone.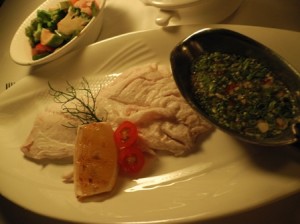 We also sampled a 'Fumee de Sel'; a French sea salt smoked from oakwood wine barrels. Served with a tuna carpaccio, sliced a tad too thickly it bordered on a tuna sashimi. If you're looking for a salt with a difference, then it's the Durango Hickory Smoked; Pacific Sea salts naturally smoked over premium Hickory hardwood. With an intense smokey flavour you only need a teeny bit, but quite divine sprinkled on the home-made focaccia.
Salt sommelier aside, the wine sommelier and his list impress with a staggering selection of rosé vinos, quite unusual for this country, let alone an island way off the beaten track.
Talking of which, allow a 4 ½ hour drive door to door from new Dubai, or slightly less from Abu Dhabi corniche. Once you arrive at the jetty close to Jebel Dhanna, ferries departing every hour will whisk you to the island in twenty minutes, followed by another so many minutes in an electric powered mini-bus to the resort.
Originally built as a guest house for the late ruler, His Highness Sheikh Zayed's visitors, the building was converted into a 64-room Anantara resort three years ago. It may be a Thai boutique hotel chain, but the feel is more African colonial; the library in particular is well worth a nightcap with the odd highly prized antique on display. And of course the reason you travel so far is not food alone, but for a guided jeep safari to peek at the wildlife from giraffes and gazelles to oryxes and ostriches, plus a herd of antelope and the odd cheetah or two. Yes right on our U.A.E doorstep.
Publicity stunt or not, FooDiva's all for injecting innovation into this country's F&B (industry lingo for food & beverage), so you may take the salt sommelier with a pinch of salt, but am pretty sure I'll return.
Is salt an essential ingredient in your diet? Why? Do you have a favourite one?
Desert Islands Resort & Spa by Anantara has a number of special packages including a two night Dine & Discovery escape. Click here for rates. E; dirs@anantara.com T; +971 2 8015400.
A bientôt.
FooDiva. x