Cantonese franchise Royal China opens in Dubai
Dubai; Another franchise restaurant knocks on Dubai's door; Cantonese outfit Royal China with locations across London, Singapore and Shanghai. Infact I seem to recall befriending the Bayswater restaurant many moons ago in FooDiva's London days.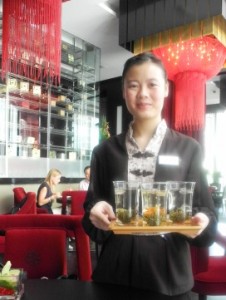 Located in the financial hub that makes up DIFC, the décor screams Moulin Rouge, all boudoir chic; dark wood, rich red velvet and brocades, and the pièce de résistance a floor to ceiling wine display in unsurprisingly, the bar. But haram, it's Ramadan. Talking of which, Royal China is open for lunch, as well as dinner throughout the holy month.
Menu choice is a-plenty; dim sum, as well as Cantonese à la carte, and an impressive tea selection. Our choice of jasmine and lily flower teas (the latter sweeter) served in tall clear glass mugs were constantly replenished.
Royal China's website mentions a Hong Kongese inspired menu, so I enlisted suggestions from a FooDiva fan based there. Now every single dish recommended wasn't on this menu. Clearly a sign the menu had been tailored for an international audience and unfortunately often the norm with Far Eastern and Asian cuisine dished up outside their country of origin.
Anyway after much umming and aghing and a little help from the Chinese waiters, here's what our lunchtime trio settled upon;
BBQ chicken buns
Glutinous rice in lotus leaves
Stir fried turnip cake in XO sauce
Steamed prawn chueng fun with chive
Steamed chilli prawn dumpling
Crispy aromatic duck (quarter)
Before we knew it, the dishes started to arrive all piping hot and eloquently presented in the usual Chinese style. Dim sum wise, the cubes of stir fried turnip marinated in XO sauce, chilli and spring onions plus the steamed chilli prawn dumplings were all round favourites. You'd be hard pushed to guess the turnip was indeed a turnip. FooDiva's now more inclined to buy and cook it at home. The prawn dumplings were served in a light hot and sour soup sauce with a dash of chilli. All marvelously moreish.
Since a friend introduced FooDiva to BBQ chicken buns (pork is commonly used in China), I can't get enough of them, and Royal China's lived up to the mark. The steamed prawn chueng fun whilst full of flavour, lacked the panache of Hakkasan's version, all be it a crispy prawn and bean curd chueng fun.
Unwrapping the lotus leaves, we uncovered what can only be described as a mash of glutinous rice. It doesn't sound very appealing and neither was it; leaving a strong after taste – the only disappointment to our meal. But Royal China does offer 37 choices of dim sum; plenty more to appease FooDiva's fussy palate.
And the crispy aromatic duck, not only carved and shredded at our table, but served up with sliced spring onions, cucumbers and hoi sin sauce all rolled up in pancakes. Am all for an easy life, especially with duck so tender yet crispy.
For dessert my friends shared buns bursting with steamed sweet egg custard. Tasted better than it looked apparently (FooDiva has an aversion to all things custardy).
Royal China was buzzing for lunchtime trade on the first day of Ramadan, and what looked like the DIFC suited and booted business crowd; amongst them quite a few Chinese – always a strong indication of a good restaurant.
My reservation was handled professionally both over the phone and on email. However, during the course of our lunch, the language barrier was clearly an issue for our Chinese waiters making it very difficult to comprehend and resulting in confusion over the odd dish or so. Perhaps some English lessons won't go amiss? But otherwise service was endearing and faultless.
We were astounded at the prices; AED 107 per person with enough food to feed our lunchtime appetites. Incredibly reasonable for a licensed DIFC joint. You'd be hard pushed to eat a similar menu at Ping Pong for that price. Oh and you can buy fresh leaf tea to brew at home.
The menu may not be true to authentic Cantonese cuisine, but the choice is so comprehensive and the quality of the ingredients top notch. FooDiva's going to give you a four out of five knife rating Royal China. Streamline the service and you'll give the other DIFC eateries a run for their money. I reckon the bar has potential to rival neighbours Zuma and Caramel. There's only one way to find out; dinner and cocktails next time.
So FooDiva Friends, have you visited Royal China yet? What's your favourite Cantonese dish? Love to hear your comments.
Royal China is located at DIFC (Dubai International Financial Centre) The Balcony, Building 4. T: +971 4 3545543 E: royalchina@royalchinadubai.com Open daily for lunch and dinner even during Ramadan. Licensed.
A bientôt.
FooDiva. x