Kenwood presents its latest squeeze; the Centrifugal Juicer. A review and a giveaway.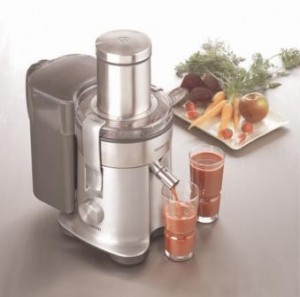 Dubai; FooDiva loves the odd product review, especially when we have a competition giveaway for you. What's more we're bringing you a preview before the product launches in the UAE later this month. Kenwood's latest squeeze; the Centrifugal Juicer.
What's with the word centrifugal you may ask, as FooDiva did ? It's the fast-rotating cutting blade that chops fruit and veg into pieces, before throwing them forcefully against a filter, that in turn separates the juice from the fibre.
Now FooDiva's not very good with gadgets (hey, not many divas are), but the manual makes assembling the juicer easy peasy. Once you've switched it on, all you have to do is bung in your fruit and veg ideally one by one, gently prod with the pusher, and out pours the juice. I was stunned by its simplicity and swiftness.
A few features worth highlighting;
Two speeds for soft and hard fruits
Gets the pulp out of the way
Anti-drip spout
Froth separator in the juice jug
So here's a recipe to invigorate you in the mornings;
Ingredients
4 carrots
1 celery stick
2.5cm root ginger
2 apples (I used granny smith)
To maximise juice extraction, hard fruits are best juiced at room temperature.
Method
Turn the juicer onto speed 2.
Feed the ingredients through the juicer one at a time, using the pusher gently. Unbelievably, you can bung a whole apple in, without slicing!
After adding the last apple, allow the juicer to continue to run for a minute or two to help clear the juice from the filter.
Switch off and wait until the filter has stopped and the final flow of juice has dripped through.
Turn the spout to the anti-drip position before removing the jug.
Pour juice into a glass and if you like garnish with a couple of basil leaves.
Makes nearly two small tumblers of juice filled with all sorts of vitamins and minerals; Vitamins A, C, E and all the Bs, plus zinc, calcium, magnesium, manganese, selenium, copper and potassium minerals. Plenty for a morning pick-me-up, no? Read here for more on the vitamin and mineral content of fruit and veg.
Best to drink your juice immediately, otherwise the vitamins start degrading. If you can't, then add a few drops of lemon juice before storing in the fridge. But don't squeeze your juice the night before; you'll simply lose out on all the vitamins and minerals. That's why whenever I look to order fresh juice at a restaurant I first ask if it's from Barakat (the UAE's main fruit and veg supplier) or juiced on the spot.
As for cleaning the device, everything apart from the filter can be thrown into the top rack of a dishwasher. A brush is supplied to wash the filter by hand; you do have to scrub a little to remove the remains of the pulp.
And now for our giveaway. One Kenwood Centrifugal Juicer [Excel JE850. Maximum power 1500W. 1.5 litre] just for FooDiva Friends in the U.A.E. To enter, simply tell us your favourite fruit or veg along with your email by commenting on this post. You can increase your chances of winning by also Liking and commenting on my Facebook page, and retweeting my tweet mentioning @foodivaworld. Remember I need your email. We'll pick a winner out of the juicing jug on Sunday, July 17th.

And if you're not a lucky winner, you can get your hands on Kenwood's Juicer towards the end of this month for AED 1,000 at Jashanmal and Sharaf DG. You can also follow Kenwood on Twitter @KenwoodME

Bonne chance et a bientôt!
FooDiva. x