Keeping up with Jones The Grocer Dubai
Dubai; "Wow, we have to queue…?!" FooDiva uttered in disbelief to friend as we walked into the new Jones The Grocer café in Dubai on Saturday, and were faced with a mini crowd waiting for a table. Clearly gone are the days when expats deserted Dubai come summer, well we have to work after all.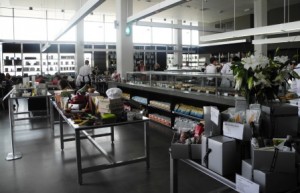 But the queue wasn't orderly, I guess typical for this part of the world, and no one from Jones to direct us or put our names on a list. FooDiva's not one for waiting patiently, so off we meandered to check out the groceries, whilst dipping and diving out of tables and punters as we circled the café. The modern open-plan all-glass design with sky high ceilings adds to the buzz and atmosphere. We spotted a free table and nabbed it; well no one told us otherwise.
Now incase you're not in the know, Jones The Grocer is a Sydney-born Australian food emporium with a café, deli and grocery. I first tried Jones when it franchised into Abu Dhabi a few years ago (it now has three in the capital by the way), making those dreaded drives worthwhile. You'll soon find out why.
The international menu (no evidence of Oz inspiration) has breakfast, lunch and dinner dishes. Nice to see a café tailoring its menu content, even if some dishes overlap. Anyhow back to lunch; my shepherd's pie with mince lamb and spiced lentils was encased in pastry. Not quite traditional but it worked all the same, spiced lentils included. A small mixed green leaf salad with balsamic dressing finished it off. My friend's mushroom risotto whilst hearty, was swimming in too much olive oil. Served with garlic croutons as they were called; but huge, more like garlic bread.
Others love Jones for its coffee, but FooDiva adores the tea selection, especially the white silver needle leaves (which you can buy as well). The dessert menu was so tempting we just had to share an apple crumble topped with a single sugared lychee – should have been a tad hotter. And a truly teeny lemon meringue tartlet. The latter perfect for office celebrations or dinner party canapés.
It might have been the greenhouse effect of our table by the French windows, but it was heating up, as fellow lunchers also commented. The table service was sporadic, at times attentive, but also non-existent. For instance, our table was not set, so when our mains rocked up we were sans cutlery. Try getting the waiter's attention in a heaving café.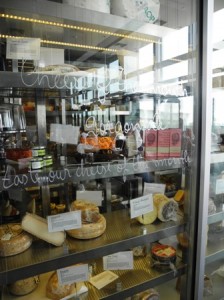 Jones' pièce de résistance is its walk-in refrigerated cheese room. Yes you heard right, every cheesaholics dream. Something for FooDiva to aspire to rather than a walk-in wardrobe. Here you can choose cheese from not just France but Italy, Spain and the UK, including one of my fave sheep milk cheeses, the nutty and fruity Ossau-Iraty from the French Basque countryland. Cheese and charcuterie platters feature on the menu, sans the glass of vino though or pork.
Now I must admit to returning for a second visit, this time mid-week; crowd-less but still busy, the service was much slicker.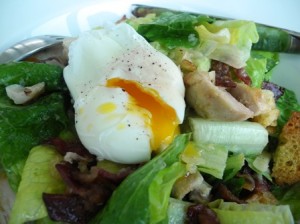 The caesar salad with poached egg and grilled chicken was too salty, even with a heavenly yoke to soak it all up. Other dishes worth trying from what I saw are the warm yellow fin tuna risoni pasta salad and the Wagyu beefburger topped with foie gras if you wish!
Jones The Grocer will naturally need some time to settle in. I doubt they expected to be so busy early into opening, and will need to adjust their manning (staff) on a weekend to cope with the crowds. Clearly some dishes work better than others, so I hope we'll see a little menu re-engineering and fine tuning in the kitchen. I am glad Dubai has a good contender to the likes of More, Lime Tree and Shakespeare cafés.
I'll be back to raid the cheese pantry. In the meantime, what do you think of Jones?
Lunch for two including soft drinks, an affordable AED 183.
Jones The Grocer Dubai on Sheikh Zayed Road (in between Al Manara and Al Thanya streets). On the same strip as Reem Al Bawadi and Crumbs. T; +971 4 3466886  E; almanara@jonesthegrocer.com Open daily 10am to 9pm.

A bientôt.
FooDiva. x