Itching for Japanese; Icho [formerly Benkay]
Dubai; Walking into the lobby of the Radisson Blu Royal Hotel in Dubai (formerly JAL Hotel and more on that later), here's what I encountered…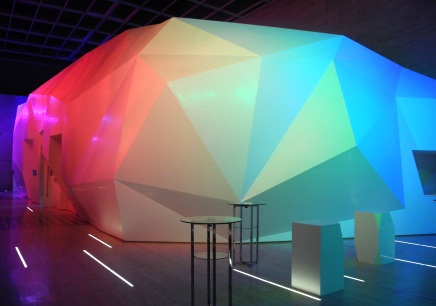 Wow, wow, wow, what a magnificent pod-like piece of art. Modern interiors don't usually impress FooDiva, but the light effects on what I soon found out was the conference facility just mesmerised me.
FooDiva was here to dine at Icho, the hotel's Japanese restaurant.  Until the week before I dined, this property was managed by Japanese hotel management company, JAL Hotels since its opening earlier this year. And they should know a thing or two about Japanese cuisine, no? The name changed from Benkay to Icho when Radisson took over the operation, but I was reassured over the phone when I made my reservation, that the kitchen and service team were still very much unchanged.
Icho is split into three levels; 1. the bar for not just cocktails, but sushi, 2. the teppan grill and 3.  a so-called authentic Japanese restaurant – on the 49th, 50th and 51st floors respectively. Starting off in the bar, I asked the barman for a cocktail list. There wasn't one he stated rather abruptly. And then suggested perhaps he could concoct one for me based on my spirit and taste preferences. Not one for letting others make my cocktail choices, "can I have a sake cosmo?" FooDiva suggested. He tried to convince me otherwise until I mentioned Hashi at Armani does a very good one. So he mixed what was an excellent sake cosmo. In the meantime Mr B was told they'd run out of Southern Comfort…quite shocking really for a five star hotel bar, so he had to settle for a glass of Sauvignon Blanc.
Point worth noting; we were pretty much surrounded by Japanese in the sushi bar. Always a good sign, but having said that, am pretty sure these were in-house guests booked in when the hotel was still JAL.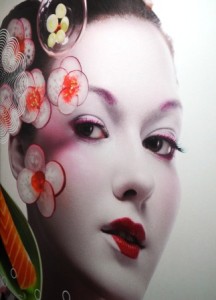 Pre-dinner drink fix over, into the elevator (the geisha print was worth a photo, no?) and up a floor, to the teppan grill with fabulous views of Dubai's sparkling Sheikh Zee Manhattan skyline. Shame the cooking area interrupted our view slightly. Bar three diners, the restaurant was empty at 8.30pm on a Thursday night, so we picked our seats facing the cooking display and ordered some edamame to keep us going. Menus were brought over, but I had to specifically request the sushi menu twice even though I had been told on the phone that we were able to mix and match dishes irrespective of which dining area we chose.
We asked for the sake and wine list by the glass menus, to which we were told they had none. So the waiter tried to list what was available, to the point of pronouncing Pinot Grigio literally…GRI..KEE..OH. Enough said, you get the picture.
Anyhow with warm sake and chilled Caliterra in hand, we settled upon sharing a Premium Course Menu;
Small appetiser
Assorted tempura (prawn and veggies)
Fresh mixed vegetable salad
Grilled king crab and fish with a lemon butter sauce
Wagyu beef tenderloin with foie gras
Garlic fried rice
Miso soup
Ice cream
Plus a portion of salmon sashimi, fish and chips sushi roll and deep fried soft shell crab.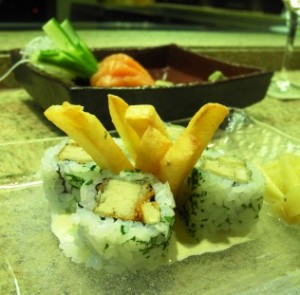 When the 'small appetiser' aka amuse bouche rocked up, I asked the waiter what it was; beef teriyaki he explained, it was in fact a very tough chicken…The fish and chips sushi roll called out to the FooDiva in me, but the deep fried hammour was bland, whilst the chips were clearly cooked from frozen. Luckily the remaining dishes impressed balancing fresh, quality ingredients with flavour; in particular the king crab in lemon butter sauce deserves a mention. The Philippino chef, teppenyaki juggling skills aside, was very knowledgeable confirming all fish produce was imported from Europe, as is pretty much the case with all Japanese restaurants in this town currently.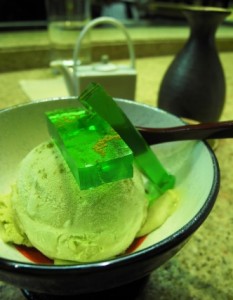 The other disappointment food-wise was the pretty inedible green tea ice cream topped with two slabs of emerald green jelly; way too milky leaving a sickly after taste. Call me biased though, as am not a huge ice cream fan.
Service was hugely intrusive throughout with constant interruptions, whilst at the same time our waiter had to check back with the kitchen on practically every single question. Absolutely no knowledge of the menu, let alone an understanding of Japanese cuisine. He was clearly no native, but that's no excuse. We had to request the bill a couple of times before it rocked up. Icho – train your waiters otherwise find them a back of house job.
Dinner for two including our pre-dinner drinks, two carafes of sake and a bottle of vino; AED 916 but that's thanks to a 20% Time Out Dubai City Card discount.
Even though we couldn't fault the majority of the dishes, dining out is an experience that marries food, with atmosphere, service and value for money. The last three were severely lacking at Icho, so much so, we couldn't wait to dash out and cross the road to Zuma for some hassle-free cocktails, and of course that ever so important buzz. Icho, in a city which houses some top-notch licensed and dry Japanese restaurants, you'd better get your act together quickly if you want to survive. One things for sure Icho, am not itching to return. Here's to a two out of five FooDiva knife rating.
Would love to hear your Japanese dining experiences – good or bad!
Icho at Radisson Blu Royal Hotel Dubai on Sheikh Zayed Road (between Fairmont and Crowne Plaza). Open daily for lunch and dinner. T; +971 4 3080000.
It certainly won't be a bientôt.
FooDiva. x