Hakkasan Abu Dhabi; does it dish out capital dim sum?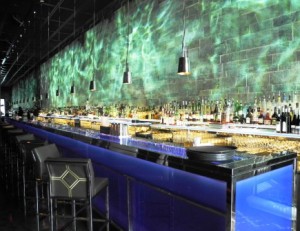 Abu Dhabi; With famed Cantonese restaurant, Hakkasan Dubai opening its doors later this year in Dubai, FooDiva had to check out its Abu Dhabi sister pronto at Emirates Palace. Now I am a huge fan of the original Michelin-star London location on a discreet alley off Oxford Street, so let's see how the other capital venue matches up.
My first email to the restaurant requesting a reservation bounced back asking me to resend to a new address which I did. Why not update your website? Anyway, three days later and no response…so I called only to be passed on to different staff members. Similar to the notoriously bad customer service in banks here. Finally I had confirmation for a Saturday dim sum brunch.
So what's the deal? Every Friday and Saturday lunchtime, Hakkasan serves up 11 dim sum dishes straight to your table, along with unlimited Taiwanese tea for AED 199 per person (minimum two people). By the way 'Hakkasan' are the nomadic Hakka tribes originating in southern China.
Ensconced in our corner banquette for five, the dishes started arriving. I was promptly told off for photographing (company policy apparently), but managed to cheekily sneak in a few, so apologies as not all dishes are here.
Har Gau (steamed shrimp dumpling)
Crystal dumpling with pumpkin and pine nut
Scallop shui mai
Steamed bun with grilled honey Wagyu beef
King crab and shimeji mushroom dumpling
Lotus layer puff
Venison puff
Cuttle fish cake
Spicy Szechuan wonton with chicken, prawn, Chinese chive and dried shiitake
Crispy noodle with roasted duck and pickled cabbage
Sweet black sesame ball (dessert)
Now my good friends are Far Eastern culinary experts thanks to Malaysian blood, so whilst I savoured every nibble, I eagerly anticipated their opinions. They confirmed Hakkasan's dim sum is by far the best in the U.A.E. FooDiva's faves? The venison puff, scallop shui mai, steamed bun with grilled honey Wagyu beef and the warm crispy noodle salad with roasted duck and pickled cabbage. Can you tell I steered away from the healthier steamed versions? The quality of ingredients and pastry stood out, as did the presentation. Delicious morsels.
All washed down with Old Puer Ya Jian tea from Taiwan. Referred to as a black tea, its colour is infact golden-amber. Thanks to a 50-year aging process, the tea is smooth to the taste with woody and earth undertones. Perfect for digestion, reducing cholesterol and slimming apparently.
The dishes are more than ample with anything from one to two dumplings per person, but my friends insisted on trying the crispy prawn and bean curd chueng fun from the normal lunch menu and as you can see just below makes for a pretty picture, as well as a tasty one; the almost translucent rice roll envelopes lasagna-like layers of bean curd, Chinese lettuce and crunchy prawn. An exceptional, flavoursome piece of art.
Dishes were well spaced out, allowing us time to digest and enjoy. Service was generally good, apart from constantly having to request tea refills. I can understand not wanting to let the tea stew on the table, but they should be a little more attentive on the tea front. Especially given the restaurant wasn't that busy.
Décor has the same night club feel as London; dark and mysteriously sexy, with high ceilings and plenty of cut-away alcoves. The piece de resistance is the 15 metre long bar; an impressive sight. You do have the option of upgrading your dim sum set menu by sharing a half bottle of Laurent Perrier Brut Champagne for AED 325 per person including food. Shame FooDiva was driving.
The set menu offers excellent value in comparison to both licensed and dry venues; you would easily pay double, if not triple by ordering individual dishes.
Rock on Dubai, FooDiva can't wait to have you on her doorstep. Hakkasan Dubai opens at Jumeirah Emirates Towers in November joining The Ivy Dubai.
So tell FooDiva, where's your favourite dim sum spot; either licensed or unlicensed?
Hakkasan Abu Dhabi at Kempinski's Emirates Palace. T; +971 2 690 7999. Open daily from 6pm to 2am. Brunch on Fridays and Saturdays from 12 to 3pm.
A bientôt.
FooDiva. x