What's TBJ? Could it be Atlantis Dubai's new burger joint?
Dubai; FooDiva's always been fascinated by all things burger, so my heart started racing when I first heard Atlantis Dubai was opening a burger joint, in fact it's called exactly that; TBJ [The Burger Joint]. I've not yet made up my mind whether I like the anagram or not, so FooDiva Friends feel free to dip in.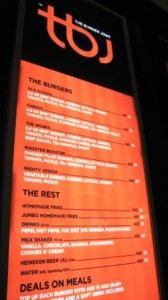 Having tasted a mini burger or two in fact, maybe even three, at a restaurant safari hosted by the very generous Atlantis team for us foodie bloggers last weekend, FooDiva knew she had to return for an anonymous review.
First though, let's clarify the origin of the burger, or hamburger FooDiva should say. Russian sailors docking at Hamburg port in the early 1900's brought with them a fondness for steak tartare (raw minced beef). Now the Germans who were accustomed to eating well cooked pork didn't take well to raw meat, so a street food seller modified the recipe by altering the seasoning, cooking the mince meat and serving it on top of sliced brown bread. Thus the hamburger was born. Only later when German immigrants arrived in New York, did America take it on and like with so many dishes, and innovations from around the world, transformed it into its own. The rest is history.
Now once you arrive at Atlantis' Avenues, with all the snazzy shops and celeb restaurants, TBJ is firmly and brightly signposted in red and black – just next to Rostang. Well one thing's for sure, the name stays true to the venue; a joint. Teeny in fact, with bar and stools ringing its way round one single lonesome table, and a handful of other tables spilling out on the 'Avenue'. Holidaymakers thronged the joint. I've yet to see a burger joint in this town, especially a classy one, so busy for a Wednesday lunchtime.
We placed our order at the counter; two so-called 'cheesy' burgers, that's 6.5 oz of beef burger with iceberg lettuce, onions, tomato, pickle, cheddar cheese and TBJ original sauce. FooDiva and Chef friend both requested rare – we were initially met with the usual response of 'Dubai municipality laws don't allow us to serve rare…' [yawn yawn] to which I insisted on at least medium rare, at which point the manager was summoned. Chef said he'd rather eat the sole of his shoes than eat medium or well done beef; well Italian leather is rather good. After much convincing (the concern is for food poisoning claims), he agreed to rare. By the way, our requests were very pleasantly handled. FooDiva asked for no onions, and Chef for sans pickle and onions too; foodies are a fussy bunch. For an additional AED 15, we topped up our burgers with French fries and soft drinks – Aqua Panna water included I should add.
Wait till you hear the source of the beef…Atlantis breeds its own European and Japanese cattle in the Australian Agricultural Company's outback stations in Queensland. 300 days before slaughter, the cattle are fed exclusively on a mix of hay, barley, corn and essential seeds to ensure the fat spreads evenly throughout the muscle tissue to perfect the marbling. Beef is graded according to the amount of marbling; the higher the marbling (and spread of fat), the tastier. Atlantis' beef has a marble score of four. Note, scores can rise up to 12. To give you a benchmark, Prime Gourmet, Dubai's only dedicated butcher sells beef from a marble score of two to seven.
So does this comprehensive sourcing and breeding of beef pay off? Well I tell ya, that beef patty was succulent, juicy, full of flavour, and more importantly not greasy. Helped by being rare of course. Considering the whopping huge size of the burger, FooDiva would have preferred the patty a little plumper similar to gourmet burgers; Chef agreed too. Otherwise consumed whole-heartedly and passionately – delicious.
The French fries are double fried giving them that ooh la la crispy texture whilst still mushy on the inside, but I must admit the fries we tasted at the food safari were a fresher bunch.
You can also choose an 'old school' burger without the cheese, 'the works' with cheese, mushroom and beef bacon, a 'rooster booster' with chicken fillet and a 'mighty veggie' burger. Simple and concise menu. If you pick a non-dry day unlike us, you can even order a bottle of Heineken. I'd like to see vino sold by the glass too. Well we don't all like beer. The manager welcomed my comments, let's see if they react.
Service was exceptionally good and smiley, from handling our fussy order to the swift table service. And before you head off, grab a marker to leave your imprint…quirky touch.
The five burgers range from AED 40 (veggie) to AED 60 (mighty works), with the cheese burger at AED 50. And if you have an Emirates NBD debit or credit card like FooDiva does, make use of the 25% discount at all Atlantis' F&B until the end of September.
By the looks of it, TBJ is already a resounding success in its first month of operation. In-house guests alone will sustain it. It's a bit of a trek for a hamburger, even for New Dubai residents – but a good, affordable pit-stop when taking visitors for the obligatory Atlantis aquarium tour. I guess FooDiva's top three burgers now have a fourth contender. Pretty please do add that vino to the menu; if anything it aids FooDiva's digestion.
TBJ at Atlantis The Palm Dubai in the Avenues. Open daily. Saturday – Wednesday; 11am to 10pm. Thursday & Friday; 11am to 3am. Good call to keep it open till the wee hours for the party animals. T; +971 4 4262626.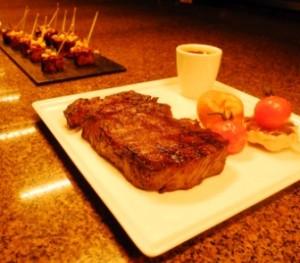 A bientôt.
FooDiva. x
P.S – the Atlantis reared beef is also on tap at the hotel's Seafire steakhouse, and if it's anything like what we tasted at the food safari, you gotta go.
P.P.S – shukran to Sally from My Custard Pie for organising the foodie safari with Atlantis. Rounding up a dozen odd foodie bloggers is easier said than done.