The new Lime Tree Café at Dubai Media City; more to it than carrot cake?
Dubai; Lime Tree café to FooDiva is synonymous with THE most divinely delicious carrot cake ever baked. I dare anyone to try it and not agree. So with a new and fourth café open now at Dubai Media City, let's take a peek.
The new Lime Tree is bizarrely located in the spankingly new Mini showroom…well I suppose it is FooDiva's car of choice and latest fashion accessory. I guess the rental deal was a good one, and of course a catchment audience on your doorstep with the surrounding offices.
Floor to ceiling windows…an industrial loft-like ceiling…slate flooring…an abundance of stark grey and black furniture…the only touch of colour comes from the food. But the good use of space is inviting…so much so, it fills up easily on a Thursday lunch. And with a queue quickly forming to place your order. If you've never been to a Lime Tree before, it's probably the only café in Dubai where you choose your dish from the refrigerated display and pay for your order before sitting down.
The waiter will then bring it over – as self-service as Dubai's ever gonna get.
FooDiva and Chef friend settled down to;
Roast pumpkin & beef bacon fritters (wheat free by the way) and served with a horseradish sauce
Sautéed zucchini, beef bacon and parmesan tart
Roast chicken & rice salad with mango dressing
Roasted pumpkin, spinach & olive couscous with a herb vinaigrette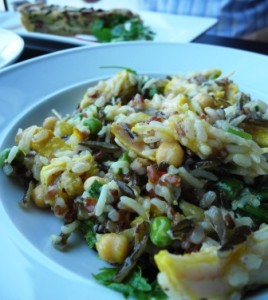 The dishes were pleasant enough but overall lacked flavour and no wow factor. The roast chicken and rice salad was perhaps the exception, thanks to the sweet and tangy mango dressing. But that mimics FooDiva's experience at all other three Lime Tree's. I put this down to the pre-prepared dishes, and rather odd mix of ingredients. But it is a Kiwi-owned cafe after all, standing true to the nation's cuisine. The triple wild berry and apple juice was freshly squeezed and outstandingly good.
FooDiva had no intention of ordering carrot cake, but as Chef had yet to try it, I relented. One to share only (it's so huge trust me you don't need more). And yes it's just as scrumptious as every other Lime Tree carrot cake, which FooDiva's been known to order as her Christmas cake. Chef agreed he's never tasted better. It's the cream cheese icing that does it for moi, and oh that single physalis too.
AED 163 for two including water and a cuppa tea. Not as cheap as you'd expect from a self-order café.
I'd only really rush back for a slice or two of carrot cake, and to service my Mini. Enjoy your weekend!
Lime Tree Cafe & Kitchen at Dubai Media City. Open daily 8am to 8pm. T; + 971 4 3498498.
A bientôt.
FooDiva. x