Ping Pong's new dim sum menu
Dubai; I first discovered Ping Pong in London a number of years ago, and no FooDiva's not talking table tennis, but the popular chain of dim sum joints where you'd happily queue outside in an icy cold clime for a lunchtime table inside. The Dubai Mall restaurant which I've frequented since its opening, has just introduced some new menu additions, and as FooDiva loves savouring anything new, here are my impressions.
Nibbles; pickled lotus root & black sesame sees, pickled red cabbage and turnip. These little delights are the Chinese equivalent of Japan's edamame; the pickled red cabbage and turnip in particular sliced like french fries are both sweet and sour; perfect for whetting the appetite.
Steamed dumplings; lobster dumpling, Har Gau, seafood wonton with spicy sauce and coriander, prawn and chicken Shu Mai dumpling. Now Ping Pong prides itself on 'little steamed parcels of deliciousness', and this section of the menu  is their speciality.
The lobster dumpling scores top points for presentation; don't they look like miniature doll's purses? Calling out to the girlie girl in me I guess.
The seafood wonton was the most divinely delicious number; the addition of coriander is quite unusual for dim sum, but makes for such a robust flavour. Har Gau is probably the most recognisable of all dim sum; a shrimp bonnet with a pleated shape. Now Shu Mai is traditionally served with a pork filling, but Ping Pong mixes prawn and chicken. Both dishes were pleasant enough, but no wow factor on the taste buds.
King prawns and scallops sticky rice wrapped in lotus leaf. As you ply open the lotus leaf, a roll of sticky rice eagerly awaits you. Dig your chopsticks in, and out pours chopped king prawns with scallops. Insanely moreish.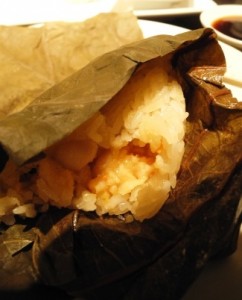 Limited edition specials; crab spring roll, salmon skewer with fish sauce, lotus roots with prawns served with mint and lemon juice. Am a sucker for a good spring roll; the filo pastry is as hot and crisp as it should be, whilst the crab filling works well with the accompanying mango sauce. Great to see the salmon rolls with its oh so nutritious skin left intact – mind you they were then deep fried. Imagine instead of a traditional prawn toast, mashed prawn on a lotus root – all deep fried – and that's what we got.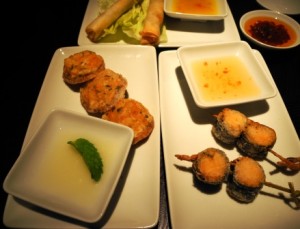 I don't know about you, but when it comes to Chinese cuisine; whether that's Cantonese, Schezuan, or any other province, I don't mind if the venue is unlicenced. There's nothing better than fresh leaf Chinese tea for digestion. My favourite tipple is white silver needle tea, which Ping Pong has, as well as flowering teas, oolongs and the like. Served in a tall glass tumbler, with the tea perched in a sachet, the obliging staff will refill with hot water as often as you wish.
You can make your own selection from the 'tick your dishes' menu, or allow the very knowledgeable staff (majority of whom are Chinese with good command of English) to recommend. Over the duration of a two hour Monday lunch – great when you're the boss, n'est-ce pas, the restaurant filled up.
AED 242 for two people. Given each dish has anything from two to four pieces, it's best to share with a friend. On a Friday, you can order unlimited dim sum (excluding specials and signature dishes) for AED 132 per head. FooDiva thinks that's incredibly good value. Here's to a four out of five FooDiva knife rating.
Ping Pong is located on the lower ground level of Dubai Mall. It's still beautifully balmy in the evenings, so grab yourself a terrace table and soak up the magical fountains. Open daily for lunch and dinner. T; +971 4 3399088.
I'll be back before the menu changes again…after all, I don't have to queue.
A bientôt.
FooDiva. x