FooDiva clings onto The Ivy Dubai; some early impressions
Dubai; Incase you're not in the know, The Ivy Dubai officially opens its oak-panelled doors this coming Thursday, June 9th. FooDiva had a sneak peek yesterday over a pre-opening dinner, so as many of you are eagerly anticipating my thoughts, here are my very first impressions. This is not a FooDiva restaurant review, as clearly in line with my editorial policy, I will return as a paying guest for a formal, comprehensive review.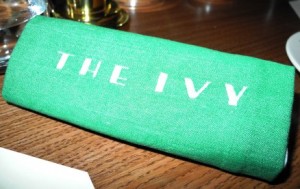 Firstly the restaurant, or brasserie as the team prefer to call it is huge. Yes I realise The Ivy sits on the old Scarlett's site, but given the last time I frequented that establishment was umpteen years ago, I was pleasantly shocked by the expanse of space. The bar and lounge area sits 40 guests, the main restaurant 90, and the 'outdoor' but really indoor terrace another 60. Plus a private dining room for 16 if that wasn't enough. The architect behind this transformation, Martin Brudnizki, who also designed The Ivy London has used the signature oak panelling throughout, with the harlequin stained glass windows forming a key feature. And of course the British racing green leather banquettes. The commissioned art, Damien Hirst included was not yet installed – an element of surprise perhaps for opening night? Shame as I really wanted to share some photos with you. Anyhow, picture private gentleman's club with an Art Deco feel – so different and refreshing for a city built on modernism. Smouldering and oh so sexy. Damn shame cigars aren't allowed. You can also plonk yourself on bar stools to eat, a little like its sister Rivington Grill. And when you do, make sure to choose Twinkle, the Ivy's signature champagne cocktail with vodka and elderflower juice – served in the original coupe shaped glass.
The Executive Chef at the helm is none other than Colin Clague of ex-Zuma fame, and yes some Japanese inspired dishes do call out to you, even though the menu has a strong European flair, British included. Like the restaurant, the menu is massive; starters include a large caviar and shellfish selection, eggs, pasta and rice dishes – with most available as larger main course options too. Mains consist primarily of fish, roasts and grills. And of course far too many desserts to choose from. Now I've reviewed so many dishes previously, do click here and here for a read.
One star starter contender last night was the foie gras – pan fried and seared served on a galette of apple and white raisin juice. The steak tartare also deserves a mention; yes it is minced beef served raw, but with the right amount of spice that helps 'cook' it a little. Perfect smothered on thick slices of white bloomer bread toast.
The Thai baked seabass with fragrant rice is hands down my favourite main to date. Not only did they not hang the art, but some dishes were apparently purposely omitted from the menu until opening night, and one such dish was their renowned shepherds pie – just the dish I'd been salivating for all day. Oh well, will definitely be back now.
And if you're harking for more British Empire choices, the kedgeree, a rice-based Scottish concoction traditionally served for breakfast but nowadays a light supper dish will entice. The Ivy knocks it up with chunks of smoked salmon and haddock, topped with a poached egg. Unfortunately, the much-promised bangers & mash doesn't feature. Am guessing they couldn't import the right pork sausages. You can see the full a la carte menu here, even though a sprinkling of dishes differ.
As for desserts, our table of four pretty much ordered every option; the banana sticky toffee pudding and the lemon assiette trio were clear faves.
Expect to pay on average AED400 per head including wine from a very reasonably priced selection. It ain't gonna break the bank, unlike some other globally imported establishments around town. Whilst the decor and food impresses, the challenge will be with the service. Will the team cope with a huge restaurant full of demanding, paying clientele? The bar has been set high, so will The Ivy Dubai meet those high expectations? There's only one way to find out. FooDiva will return once it's officially open and we've allowed some time for settling in. In the meantime, as I know FooDiva Friends already have bookings, please feel free to share your experiences here.
And if you fancy even more reading, here's an earlier interview.
The Ivy Dubai at Jumeirah Emirates Towers Boulevard will open daily for lunch and dinner from June 9th. T; +971 4 3198767  E; theivy.reservations@jumeirah.com
A bientôt.
FooDiva. x