Cheese, wine & jazz at Sofitel Dubai Jumeirah Beach
Dubai; Amongst Dubai's endless foodie promotions, an exceptional, quality deal stand outs that FooDiva really had to share, and share alike. Every Wednesday evening between 7 and 10pm, Sofitel Dubai Jumeirah Beach runs an unlimited cheese, wine & jazz soirée for AED 150 per head. Yes you heard right, so what's it all about?
I rocked up with a couple of friends at the hotel's Plantation lounge expecting to pick and choose a table, but we were asked if we had a reservation. Now, FooDiva's a sucker for planning, and always pre-books restaurants, but for some reason given this was a promo deal in a lounge-come-bar, I never expected the need for a reservation. Anyhow, the waiter offered us a table in the bar area with frankly not much atmosphere. I realise I should have booked, but most establishments keep the odd table free, and on top of that, there's always no-shows. I held off flashing my business card because I wanted to see how the waiters coped with the issue, and FooDiva's meant to be incognito after all – but in the end my friends insisted, so FooDiva relented and a table in the centre of the lounge was suddenly, miraculously available. So much for FooDiva's anonymity.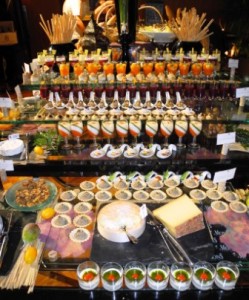 The lounge is aptly named Plantation; the decor is hugely colonial, think Out of Africa, oversized armchairs, panama hats, and the most exceptional collection of retro photography prints including a stunning shot of Yves Saint Laurent and Carla Bruni in her hey day.
There's a selection of European and New World reds, whites and rosés, French included which you collect yourself; the red Bordeaux was the best pick, mind you the wines do change every week, so ask to taste before deciding.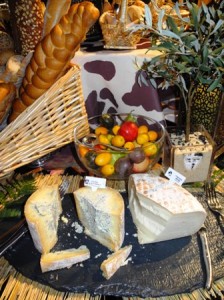 You can choose from a buffet spread of 33 different French cheeses (labeled, plus a digital frame running through them all). A mixture of cow, goat, sheep, soft, hard and blue; a cheesaholics dream. FooDiva's faves; Reblochon, Pont l'Évêque and a Chèvre were all there. Why only French you may ask, well Sofitel is a French hotel chain after all. Did you know there's a staggering 350 plus distinct types of French cheese of which 56 are classified and protected under French law? So frankly to have 33 of those on our Dubai doorstep is an impressive feat; Lafayette Gourmet and Carrefour's cheese counters pale in comparison.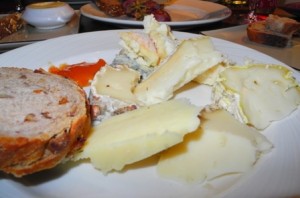 Plus plenty of canapes; the chicken liver pâté tartlettes and foie gras bruschetta were my faves. An impressive selection of bread, but would have been good to see a smattering of crackers, even if the French frown upon them. Chutney, jam and tapenade condiments complete the luxurious spread. Believe me FooDiva was in seventh heaven, well cheese would be my one desert island request.
Now according to the chef, they are likely to extend the spread to include  even more cheeses and wait for this, charcuterie; whether that impacts the price or not, we'll have to see.
Whilst the saxophonist and guitarist played a good tune or two, it wasn't really true jazz music (ie. blues) as promoted. Mind you, story of Dubai. Lights could have been dimmed slightly to create a little more ambience. Service was excellent, but you have to take that with a pinch of salt as FooDiva had been uncovered. I'll most certainly return…with a reservation.
Plantation Lounge is located on the third floor of Sofitel Dubai Jumeirah Beach. Unlimited cheese & wine every Wednesday from 7 to 10pm. AED 150 per head [NOTE – the price has since increased to AED 170 per head]. Remember to book ahead! T; +971 4 448 4848.
A bientôt.
FooDiva. x