Bumble Box market day – veg, fruit, dips, oils and more
Dubai; Good news for us fans of all things Bumble Box. Our cries of  'we'd prefer to buy our fruit and veg loose' have been honoured at the weekly Saturday morning market at Dubai Garden Centre.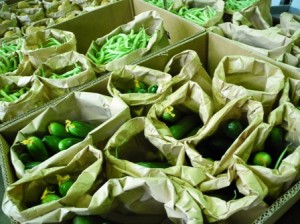 This weekend FooDiva purchased organic, locally grown cherry tomatoes, cucumbers and green beans in small packets – plus a punnet of eggs. Yoghurt, melon and passion fruit were also up for grabs. And if you're indecisive, you still have the choice of pre-packed boxes.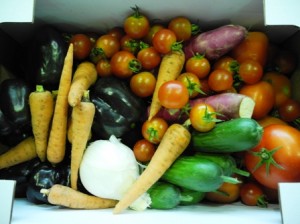 In addition to Scrumptious Cup Cakes and Cooking ID's chutneys (read my previous post here), I happened upon Pink Peppercorn dips and spreads, home-made by Louise and Sam right here in Dubai; gluten-free with no added preservatives or enhancers. I walked away with the smoked salmon and fresh herbs, plus artichoke and parmesan cheese dips. Great topped on baked potatoes, spread over rye crackers or a simple dip. Other flavours are rocket & cashew pesto, caramelised onions with date honey and lemony labneh (on my shopping list for next weekend!), and the Green Goddess – you'll have to guess the latter's ingredients! AED 30 per dip, if refrigerated will last five days…bet you anything they'll be gone before you know it.
Dipalicious.
You'll also find Gourmet Point selling the French brand La Tourangelle's dozen or so oils; I spotted a 100% organic Moroccan Argan oil, quite a rare find. Now I must admit FooDiva had an ulterior motive that for once was not food-related. In addition to being an excellent oil to drizzle on salads and cooked dishes (it's best to avoid heating), Argan oil has healing cosmetic characteristics, perfect for treating scar tissue and also simply as a great night moisturiser. I promise you FooDiva's skin this morning  has never felt smoother and softer. AED 60 for a 250 ml bottle; beautiful packaging by the way.
When you've had your take of all things foodie, the second-hand bookshop, House of Prose, a step or two away is worth a look-in. What's great about the Bumble Box market, is the proximity of Prime Gourmet, Dubai's very own dedicated butchery. Click here for a recent review. Beef fillets (grain-fed Australian Angus and free-range New Zealand), plus some grain-fed Australian Angus ground beef were my take-home purchases. Steak tartare on FooDiva's menu ce soir.
The Bumble Box market runs every Saturday morning from 9.30am to 1pm at Dubai Garden Centre on Sheikh Zayed Road. Or you can collect your order from the Garden Centre on Tuesdays and Wednesdays (9am-10pm). E; orders@bumble-box.com
A bientôt.
FooDiva. x