Balance Café; Dubai's first Ayurvedic eaterie opens
Dubai; FooDiva was gutted when Gourmet Station, Dubai's first decent deli shut its doors at Oasis Centre last year. Unsurprisingly, the odd location hindered foodie custom. Well the owners, Dubai conglomerate, Landmark Group who also operate Chi'Zen, Carluccio's and Mango Tree amongst many restaurant brands, has reopened the venue as a new café, by the name of Balance; with some of the earlier interior features still prevalent.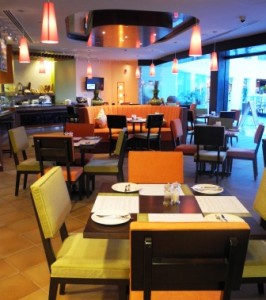 Balance Café prides itself on a health and wellness menu based on Ayurvedic principles – the idea that the fresh, healthy dishes are 'in balance' with what our bodies require both inside and out. But what really is Ayurveda?
Translating to 'science of life', Ayurveda is a traditional healing system originating in India 5000+ years ago. It works on the principle that the universe including our human bodies and food are made of five elements; air, space, water, fire and earth. These five elements, when present in the right proportion give us the balance of three energies or doshas; Vata, Pitta and Kapha. A disruption in this balance can lead to ill health. So with this in mind, Balance's menu allows you to either select dishes based on how you are feeling, or better still on your individual doshas.
But how do you know which doshas are more prevalent in your body? Dr Chandy, an in-house Ayurvedic practitioner can be booked for an assessment. Monitoring FooDiva's pulse for a few minutes, and after umpteen questions, 30 minutes later, he pronounced my body was a mix of Vata (mental balance and compassion), and Pitta (intellect and enthusiasm).
The menu's a tad confusing, but once you've figured out how to navigate the elements and energies, there's plenty of dishes to manoeuvre through. FooDiva opted for a goat cheese and sun-dried tomato tart with beet reduction and pesto oil. I must admit I'd tried it previously at the media tasting; it was delish and I couldn't resist…plus a Caesar salad.
All dishes are calorie and mineral counted, plus food intolerances are catered for with gluten and dairy free choices. FooDiva wolfed down the two slices of tart; the tanginess of the goat cheese was offset by the sweetness of the sun-dried tomatoes. For lovers of cold pizza, this one's a moreish must. Meanwhile, the Caesar salad lacked 'oomph'; perhaps it was the low fat dressing. I must admit I would have liked the choice of adding grilled chicken (plenty of meat on the menu by the way). I had to keep on reminding myself this was a health and wellness review.
Prices are incredibly reasonable, in fact bordering on cheap; my two dishes came to a grand total of AED40! Oh and they do take-out too.
Good news is Landmark's 'Wellness 360' health centre is set to open next door sometime early July, so you can book your Ayurvedic appointment first, before tucking into lunch. It's great to see the development of home-grown foodie concepts, but given the odd location, I sincerely hope Landmark will invest in the right marketing to drive that much-needed traffic to Balance. Will the scales tip in their favour? Time will tell.
Balance Café is located on the third level of Oasis Centre (Sheikh Zayed road). Open daily from 7am to 10pm. T; +971 4 5151 4051.
A bientôt.
FooDiva. x