The new buzz, Bumble Box sows its local, organic seed in Dubai
Dubai; On the odd occasion that FooDiva eats in, I try where possible to buy local produce, and when I say local I mean from the U.A.E, not the wider Middle East and North Africa region. The Farmers' Market at Souk Al Bahar was a forerunner in the drive to bring farm to table – well after the closure of Nazwa farm shop last year. Good news is, we now have even more choice; as of last Saturday, a new start-up, Bumble Box (don't you love the name?) now provide locally sourced vegetables from Mazaraa organic farm in Abu Dhabi. Not only local, but organic too.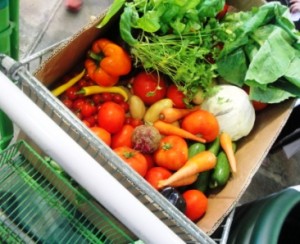 Now, if I had a choice of local OR organic, but not both, I would always opt for local, even if not organic. Why add to our carbon footprint when we have such a wonderful array of produce on our doorstep? Unless you are buying from one of the local farms – direct or indirectly, am sure you know this already, but beware much of the organic produce available here is not local. Tahira Yaqoob from The National sums up the local versus global imported debate perfectly here in this article.
On Saturday mornings from 9.30am, Bumble Box and the ladies behind this venture Sonia and Becky run a market at Dubai Garden Centre (indoors for now) selling fresh veggies in two sized boxes. Small (enough to feed two people for one week)  @ AED 80, and Large (for four people per week) @ AED 130. Or you can collect your order from the Garden Centre on Tuesdays and Wednesdays. E; orders@bumble-box.com
My small box was filled to the brim with cherry and plum tomatoes, cucumbers, yellow and red peppers, aubergine, onions, potatoes, chillies, cabbage, lettuce and basil. Note all boxes pretty much contain the same selection of produce. Whilst I can understand the ease and business sense of selling this way, I would love to have the choice of buying what I want – even if it means filling a box with your faves. There's certain vegetables I love and others I don't…well FooDiva is a fuss-pot after all. Even though we tasted some succulently sweet melon and strawberries, fruit will only be sold once it becomes available. Brave but smart move to launch just as summer takes its toll and sourcing locally farmed produce becomes a challenge, but Bumble Box is keen to test the waters and sort out their online ordering system before demand picks up. You'd never have guessed though; Saturday's market was busy, buzzy and bustling, with a fabby feel-good vibe all round.
I've been living off my box the last couple of days, making bowlfuls of crunchy salads and baked potatoes with cherry tomato, halloumi and basil toppings. It's so great to actually savour truly fresh vegetables here, with the flavour lingering on your taste buds.
The market's not just flowing with veggies, but a couple of other artisans are selling their wares. Cooking ID, helmed by a duo of Belgian ladies making their very own chutneys, tapenades and jams at home (the tomato chutney is divine on a baked potato) – as well as selling marinades of fetta (you'll be pleased to hear it is Greek), Belgian chocolate and meringues bizarrely. All made at home in Dubai. And Scrumptious, for home-baked cup cakes and macaroons delivered straight to your door. I bought a selection of ten mini vanilla and chocolate fairy cakes…simply scrumptious.
If you didn't know already, Milk & Honey, the Palm Jumeirah deli, also sells its produce at Dubai Garden Centre and FooDiva was delighted to happen upon a packet of wholemeal spelt papardelle – spelt, being the original and less refined wheat, is so much kinder to our digestive system.
Do check the market out on Saturday. For home-grown ventures like these to not only survive the buzz, but flourish, they need our wholesome support. And it's not just me that thinks so, here's fellow foodie blogger My Custard Pie's review.
A bientôt.
FooDiva. x