Lunch with Pierre Gagnaire next week at Reflets?
Dubai; Guess who's coming to town next week? Well it has to be food related, n'est-ce pas? None other than, Michelin star chef (11 in total) Pierre Gagnaire, the culinary genius behind Inter-Continental Dubai Festival City's Reflets French restaurant and ten other restaurants around the world.
Now FooDiva's always been a fan of this true gent of a chef as you can read here, but when I heard of Reflet's four course business lunch special (only AED 180 by the way) which will still run during Pierre's visit incase you're wondering, surely it warranted a FooDiva review? So with foodie friends in tow – who I hasten to add, have lunched at Reflets every week for the last three weeks – I was curious to see if it matched up to their sky-high experience.
The four course menu du marché, plus amuse bouche is set, but may vary weekly dependent on availability of produce. Quite a few of the vegetables come from a certain Mr Thibault's very own garden in Paris and are flown in daily. Here's a peak of yesterday's menu.
Not only is Pierre Gagnaire's food a very tasty work of art, but it's experiential; the four mini hors d'oeuvres were served together but in individual dishes, each a little surprise. Nuoc man incase you're wondering is a sweet fish based sauce. The saltiness of the slippery fresh anchovy was the perfect antidote to the sweet gelatinous beetroot pureé – my fave of the four.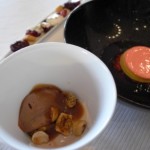 Next up was the starter; the aroma of butter was so intense, you couldn't help but dive into this dish of smoked trout, veggies and mustard leaves, with a scattering of grapefruit segments – all coated in beurre blanc.
And the pièce de résistance main; thinly sliced fillets of duck with artichokes and date coated hazelnuts, all drenched in a fresh creamy morel sauce. Now given FooDiva doesn't do the whole mushroom and truffle family, the restaurant very kindly prepared a cream of asparagus sauce instead to generously drizzle over. Gosh this dish really was moreish – each ingredient so different yet working in tandem. My second helping of warm freshly baked bread, the brioche roll is to-die-for by the way, went some way to mopping up the sauce. Infact my friend has been known to order this dish twice even though portions are well sized – no nouvelle cuisine here thank goodness.
With a teeny little break, our trio of desserts rocked up; 1. Olive oil parfait, lemon grass jelly, raspberry with lime zest and black pepper, glace royale, 2. Baba soaked with a zest syrup, pear compote, pistachio cream, mix of fresh strawberries and cooked beetroot dices and 3. Gianduja chocolate panna cotta, hazelnut crumble, caramel, chocolate ice cream, roasted hazelnuts. Now whilst I love creativity in ingredients with savoury dishes, am a stickler for simple desserts – especially when FooDiva's been known to devour your chocolate caramel macaroons Mr Gagnaire. These three dishes did nothing to tantalise my taste buds – however I accept that may just be FooDiva – even though my friends echoed the same sentiment.
My only other bone of contention would be the coffee cup my English breakfast tea was served in – so many restaurants in Dubai cater to a coffee-drinking clientele, and I know we're the minority, but a traditional cuppa's not quite the same without fine bone china tea cups. Oh and guess what, the petit fours included a macaroon; all-be-it raspberry and almond if my memory serves me correctly.
Service from the manager, sommelier and waiters was truly top-notch; knowledgeable and attentive without being obtrusive. As beautiful as the decor is with a series of banquettes plus my favourite circular corner window table, only a handful of business boys graced the restaurant, and you do need that people buzz for atmosphere. Move the restaurant, and hotel I guess, to a more central DIFC-type location and you'll see a waiting list am sure.
Two bubbly bottles later (a Pol Roger rose and a Gosset), we were ready to call it a day. I do love my job, and Pierre Gagnaire of course.
The Business Lunch menu is available from Monday to Friday (yes you read right, Friday too) from noon to 2.30pm for AED 180 per person. Pierre Gagnaire will be cooking in Dubai from May 31st to June 5th for lunch where the business lunch menu will still be on offer, as well as dinner with a choice of à la carte or a tasting menu.
Reflets at Inter-Continental Festival City. T; +971 4 701 1199 E; reflets.restaurant@ichdfc.ae

A bientôt.
FooDiva. x