Do Great White Knives cut it for FooDiva? Plus a giveaway up for grabs
Dubai; Now it's been said that 'a good craftsman never blames his tools'. But anyone with a remote interest in cooking; amateur or professional, will recognise the need for a good set of sharp knives. If it makes cooking more enjoyable, easier and efficient, then why not? So when FooDiva was asked to test Great White Knives, it was the ceramic material that caught my sharp eye. Yes you heard right, these are no normal stainless steel knives, but ceramic, zirconium oxide to be precise, the second hardest material after diamond. Heads up, you'd better read the whole review, as we also have a giveaway!
I set up about cutting up a whole myriad of produce; fish fillets, turkey, beef, broccoli, asparagus, tomatoes, lemons and hard and soft cheese to name a few, using three different blades (6, 4 and 3 inch). Firstly, very ergonomic to grasp. The sharpness is almost scary; one slap of the handle and it's off like a guillotine…no wonder the logo resembles shark's jaws. Certainly the ceramic edge feels sharper than my steel knives. The sharpness was certainly more evident with meat, poultry and lemons than with 'softer' produce. I tried dropping one to see if it would break, but not a crack to be seen. A two year guarantee is offered by the way.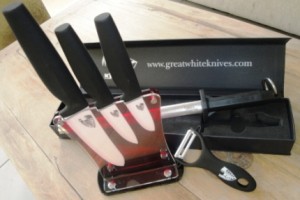 Now I only tested them for a few days, but the sales spiel says that even with frequent use, you only need sharpen the knives once a year – with a special ceramic sharpener though. Needless to say ceramic does not rust, unlike steel, so there's another USP. It's best to hand wash them though and allow to drip dry in their very own perspex stand. Plus they won't stain. Now given I don't aspire to being a chef (FooDiva much prefers eating out), I did ask an amateur chef, Mr K, for his thoughts – here's what he said;
"Great White Knives are so fun to use; lightweight, thin and smooth so requires less effort to hold and cut. While it cuts its way through veggies, meat and cheese with effortless ease, its delicate silhouette makes it a bit vulnerable to harsh kitchen uses like crushing of garlic cloves or nuts. It may not replace all stainless steel knives, but it will make recipes that require lots of slicing and dicing even more fun. So all in all, a very good kitchen tool for specific uses and easy cutting."
Great White Knives also produce a ceramic peeler, which is great for slicing a good slither of cheese; not at all fiddly. As for peeling potatoes, call me odd, but I much prefer a small sharp knife.
And here's what you've been waiting for, Great White Knives is giving away a set of three ceramic knives (6, 4 & 3 inch blades) with its very own perspex stand just for FooDiva Friends in the U.A.E. To enter, simply tell us your favourite dish along with your email by commenting on this post. You can also do so by 'Liking' and commenting on my Facebook page, and sharing my tweet mentioning @foodivaworld. Remember I need your email. I'll pick a winner out of a kitchen bowl on May 16th. Best of British luck!
And if you don't win, Great White Knives will offer you a 20% discount by purchasing online on www.greatwhiteknives.com quoting 'FooDiva'. Free delivery in the U.A.E.
Set of three ceramic knives (6, 4 & 3 inch blades) with stand AED 399. Now that's a good deal, FooDiva says – you'd pay more than double for a good stainless steel set. Knives can also be bought separately. By the way even though the company is British, the knives are manufactured in China – but hey ho that's the next world power so we'd better get used to it.
Ceramic peeler AED 45. Ceramic sharpener AED 74. Aside from their website, Great White Knives are stocked at Organic Foods & Cafe (Dubai Mall & The Greens), Milk & Honey on Palm Jumeirah, Al Diyafa in the Courtyard, Al Quoz, as well as Park & Shop at JLT.
Well even though diamonds are a girl's best friend, FooDiva may just have to settle for second best – so here's to slicing away with my new ceramic Great White Knives.
A bientôt.
FooDiva. x