Rediscovering a Chinese haunt
Dubai; Sometimes there's nothing better than rediscovering old haunts, it doesn't always have to be new, new, new. So when FooDiva heard that Dynasty, the Chinese at Ramada Hotel Dubai had introduced a new Cantonese and Szechwan menu thanks to a new chef, off she went. Having lived in Bur Dubai in my early years, I have very fond memories of the neighbourhood and the hotel's many restaurants…and I do confess to missing that hustle and bustle.
The hotel was buzzing (ok, it was a Thursday evening), and saw was Dynasty. It's definitely had a well-deserved refurb, accentuated by some beautiful filigree puppet wall hangings.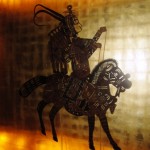 Yet again, another Chinese establishment with a hugely comprehensive menu. Much to the restaurant manager's chagrin, we decided to pace ourselves starting with a selection of three dim sum; steamed sio mai with chicken and shrimp, and steamed hao kao with shrimp. The latter was infused with coriander, and very pleasantly overpowered the other two quite non-descript dumplings. Next up was aromatic crispy duck; I would have much preferred the bird carved at our table. Whilst crispy enough, the meat was a tad tough and stringy. Pancakes were aplenty but lukewarm, an issue in most Chinese restaurants.
Our sizzling lamb with onion and green chillies was wonderfully succulent, and not too spicy, whilst the sweet and sour prawns (yes I know I should have been more adventurous with my order, but sometimes going back to basics works), were moorish…prawns coated in crunchy batter, peppers and pineapple, all soaked in that divine and oh so unhealthy sauce. And polished off with fresh and fluffy egg fried rice. By the way, the small portion is more than enough for two.
I had zero intentions of ordering dessert, but when the toffee banana screamed out to me, FooDiva relented. I know toffee is tough, but it was like smashing ice…then the warm banana oozed out and a dollop of vanilla ice cream helped scoop up the caramel sauce. Definitely worth ordering. The Shanghai pancake filled with dates and red beans; ugh you'd say, but made for a nice contrast…the folded crepe-like pancake was too overcooked though.
Service was second-to-none; it's so nice to see Chinese establishments using silver service. The staff were attentive to every table in the fully booked restaurant. If you're in the vicinity and fancy a good licenced Chinese, you know where to go (4 out of 5 FooDiva knife rating).
Dinner for two; AED 550. Dynasty is open daily for lunch and dinner. Tel; +971 4 5061148.  
A bientôt.
FooDiva. x