Margaux ce soir?
Dubai; FooDiva was delighted to see Margaux introduce a new lounge concept to its French restaurant at Souk Al Bahar. Don't fear the restaurant still remains (all-be-it with a new menu); the lounge is simply an additional feature to encourage a different mix of clientele.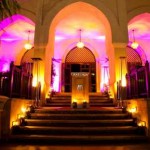 At a sneak preview last night, we were served canapé versions of the new lounge menu; Warm goats cheese with toasted almonds, basil pesto and confit tomato, Caesar salad bites wth quail egg, parmesan, anchovy and garlic croutons, Pissaladiere (flaky pastry crust, stewed onions, black truffle and anchovy), Mini pastrami sliders with gruyere cheese, Lyonnais onions, and Dijon mustard, Chilled rare tuna with jalapeno guacamole and citrus vinaigrette.
If I had to pick some FooDiva faves, I'd go for the caesar salad bites; the ingredients beautifully served in a teeny lettuce leaf, and the mini pastrami sliders; slithers of smoky pastrami beef with melted gruyere sandwiched in baby baps and topped with a cornichon. The chilled rare tuna was also one of the most tender I have tasted here, and that includes the tuna sashimi from this town's flurry of Japanese restaurants. And if that's not enough choice, there's another eight dishes to wet your appetite.
As you lounge al fresco in your armchair or sofa, with a glass or two of bubbles (or one of 20 cocktails!), just take in those spectacular views of Dubai's magical fountains; I don't know about you, but they never cease to amaze me. Makes a great pre or post-dinner drink, or with the fabulous new menu, an evening in itself – it's even open during the day. There's indoor seating as well for the hot summer months. I'll be back to savour the new restaurant menu, and admire the fountains of course.
The lounge menu dishes are priced from AED 40-90, with cocktails at AED 55/60. Open daily from 1pm to midnight. Tel; +971 (0) 4 4397555.
A bientôt.
FooDiva. x